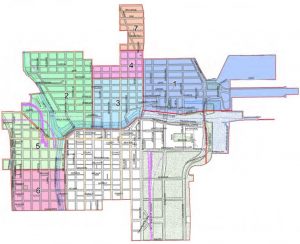 The Chicago Department of Streets and Sanitation (DSS) will resume their seasonal street sweeping schedule, which lasts from April 1 to mid-November.  DSS fleet of street sweepers help to keep streets clean and prevent dirt and debris from entering the sewer system – ultimately allowing for better drainage during a rain storm.
Click on the following link to view the 42nd Ward's Street Sweeping Map, which corresponds with the Street Sweeping Schedule.
Residents are asked to be mindful of all temporary and permanent street sweeping parking restriction signage. To ensure curb-to-curb street cleaning, bright orange temporary parking restrictions are posted the day before sweeping service is scheduled to begin on any street.  Some streets have permanent signage that specifies a once-per-week period when parking is prohibited for street sweeping.
Please take care to read all posted parking restriction signs and be aware that street cleaning signs take precedence over other posted signs on the street. On street cleaning days, the streets should be kept clear of vehicles from 9:00 a.m. until 3:00 p.m.
Vehicles that violate street-sweeping restrictions will be issued a citation and possible tow.
New Sweeper Tracker App Available for Residents!
A new online tool that allows residents to track the Department of Streets and Sanitation (DSS) street sweepers in real time. The new Sweeper Tracker App includes the upcoming season's neighborhood cleaning schedules, which begin April 1.
Beginning Monday, DSS street sweepers will be working to clear litter and debris that has accumulated during winter months from residential and arterial streets across the City.
Residents can view these efforts here. The technology builds off the success of the City's Plow tracker, which is activated during snow events to show the fleet of salt spreaders in real time.
Source:  Alderman Reilly Reports 3/30/18