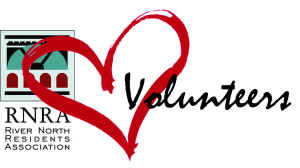 Thank you for your interest in RNRA!  The River North Residents Association is a volunteer-led nonprofit community organization, working to protect and enhance the quality of life in River North.  Our ability to deliver value to the neighborhood depends upon individuals like you playing an active role.
Descriptions of RNRA's standing committees can be found here.
If you would be willing to invest a few hours of your time to help make a great Chicago neighborhood even better, please complete the short form at the bottom of this page. An RNRA representative will reach out to discuss opportunities for you to get involved.  
Thanks again for your interest!
---
By submitting this form, you agree to RNRA's Privacy Policy and Terms of Use.