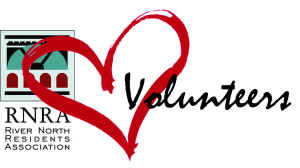 Thank you for your interest in RNRA!  The River North Residents Association is a volunteer-led nonprofit community organization, working to protect and enhance the quality of life in River North.  Our ability to deliver value to the neighborhood depends upon the willingness of neighbors like you to play an active role.
If you would be willing to invest a few hours of your time to help make a great Chicago neighborhood even better, please complete the short form at the bottom of this page, which will help us understand your talents and interests.   An RNRA representative will reach out to discuss opportunities for you to get involved.  Thanks again for your interest!
---
Below is a list of standing RNRA Committees, which are comprised of civic-minded local residents and chaired by members of the RNRA board.  Following the list of Committees are some specific areas where volunteers are needed.
Commerce Committee
The Commerce Committee exists to promote responsible commerce in River North and to manage, enhance and expand RNRA's relationship with the local business community
Development Committee
The Development Committee exists to ensure that real estate development is planned and executed in a thoughtful manner that enhances the community and considers the interests of all stakeholders.
Marketing Committee
The Marketing Committee exists to create and execute strategies and tactics that promote and raise awareness of RNRA's brand, programs and capabilities.
Membership Committee
The Membership Committee exists to promote RNRA as an essential resource in River North and to enhance and expand the organization's relationship with the local residential community.
Park Committee
The Park Advisory Committee exists to enhance and promote A. Montgomery Ward Park and to advocate for the creation and improvement of public green spaces throughout River North.
Pet Owners Committee
The Pet Owners' Committee exists to promote responsible pet ownership in River North and to support, engage and expand RNRA's relationship with the local pet owning community.
Public Safety Committee
The Public Safety Committee exists to improve public safety in River North and encourage constructive engagement between local residents, businesses, public safety officials and other stakeholders.
Parents & Families Committee
The RNRA Family Committee exists to support and engage families with young children and to expand RNRA's relationship with this segment of the River North community.
Plan and run RNRA Family Events in Ward Park/Help at Family Events
Set up RNRA tent/table for park events (Coordinator and helpers)
Graphic Artists to create flyers, posters and banners
Salespersons – Present sponsorship opportunities to local businesses – Increase sponsors on My River North Mobile app
Proofreaders – Monthly newsletter
Photographers – Capture photos at events and around town for social media, website and newsletter
Court Advocates – Attend hearings for crimes committed in River North.
Help with DFA clean-ups
Help with  park clean-ups and  events
Update the park kiosks with current information
---
By submitting this form, you agree to RNRA's Privacy Policy and Terms of Use.