On April 6, 2022, RNRA launched a survey to gather public input about the Bally's Casino Complex, proposed to be constructed on the Tribune Publishing site at Chicago Avenue and Halsted Street.
This page will present survey data and will be updated regularly. To participate in the survey, please visit our main casino page.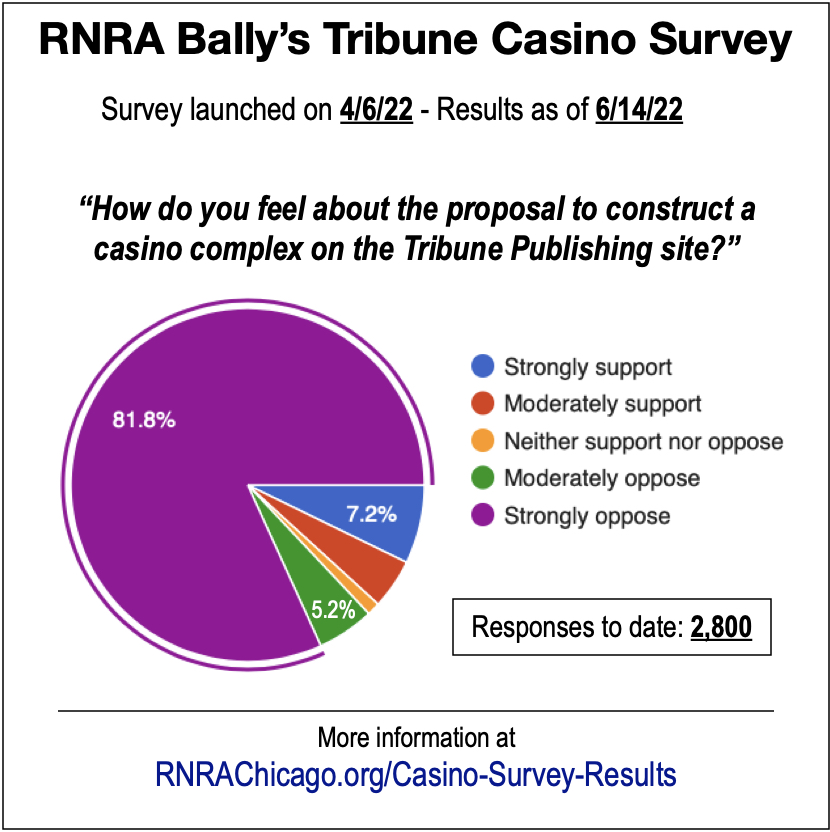 Results as of: 6/14/22
Total respondents: 2,800
Strongly oppose: 81.8%
Moderately oppose: 5.2%
Strongly support: 7.2%
Moderately support: 4.6%
Neither support nor oppose: 1.2%
What are the main reasons for your opposition to the proposal?
Potential for increased crime: 91.9%
Vehicular traffic: 89.1%
Reduced property values: 80.1%
Noise: 75.4%
Strain on infrastructure: 68.2%
Bright lighting: 56.7%
Pedestrian traffic: 55.5%
Regressive economic impact: 54.5%
Other: <1%
What are the main reasons for your support of the proposal?
Economic development: 80%
Infrastructure improvements: 79.1%
Riverwalk: 75.4%
Live entertainment & theater: 72.3%
New restaurants: 71.7%
Job creation: 68.9%
New hotel: 42.4%
Legal gaming: 35.7%
Other: <1%
Over 1,490 survey respondents have taken advantage of the option to submit additional narrative commentary, explaining the reasons for their responses. All of this unedited commentary has been forwarded to City of Chicago decision makers including the Mayor's Office and the Members of the Special City Council Committee on Casinos. RNRA is grateful to all survey respondents for their time and input.