Please read and share this information freely with any individuals or organizations who may be impacted by this important issue. If you would like to receive additional information on this and related topics from the River North Residents Association, please subscribe to our newsletter. Your non-public information will never be shared externally without your permission.
---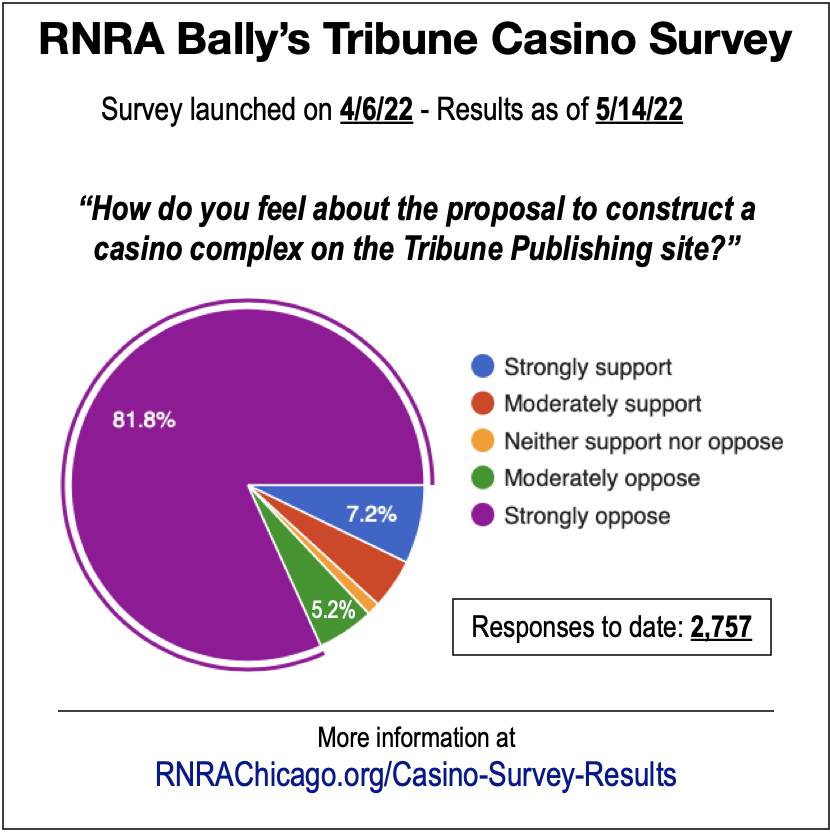 RNRA will keep the survey open and publish updated results until a final determination is made by City of Chicago officials about the casino site. Regardless of your position on this issue, if you haven't taken the survey yet, please do so and let your voice be heard.
The City Council will soon vote to support or oppose this proposal. If you feel strongly about this, please to contact your Alderperson via email or phone and let them know what you think. Contact information for all 50 Wards is here. Thank you for being part of the process.
---
---
Spring 2021: City requests casino proposals
In the spring of 2021, the City of Chicago requested multiple proposals for the development of Chicago's first casino complex.
November 2021: City announces 5 bidders under consideration
These proposals, along with the original RFP, public presentations, traffic studies, and the city's Evaluation Report, can be accessed here. 
December 2021: RNRA raises concerns about Tribune site development
RNRA's Development and Land Use Committee and Board of Directors reviewed the proposal for a Bally's casino to be located on the site of the Chicago Tribune publishing facility known as the Freedom Center, located at Chicago Avenue and Halsted Street. On December 3, the RNRA Board sent a letter to Aldermen Walter Burnett (27), Brendan Reilly (42)  and Brian Hopkins (2), as well as to Samir Mayekar, Deputy Mayor for Economic and Neighborhood Development, and Maurice Cox, Commissioner, Department of Planning & Development. This letter described the significant negative impacts that a such a large-scale entertainment complex would have on traffic, public safety and quality of life for thousands of residents in the densely populated surrounding area. The letter is posted here.
March 2022: City announces 3 finalists
On March 22, the City announced the selection of three finalists, one of which will receive the sole license to operate a Casino in our city. The Bally's Tribune site is among these finalists. Three community meetings were scheduled so that attendees could learn more about each site and have an opportunity to ask questions and share comments or concerns. Every seat in the April 6 meeting about the Bally's Tribune proposal was reserved, which demonstrates the level of public interest in this issue. Those who were unable to attend should watch the Livestream. 
April 2022: RNRA publishes critique of Bally's Tribune assessment
On April 6, RNRA introduced a critique of the assessment of the Bally's Tribune proposal, which is contained in the city's evaluation report. This critique, developed by RNRA's Development and Land Use Committee and sent to the office of the Mayor and Members of the Special City Council Committee on the Chicago Casino, raised important questions about key elements of the proposal. The critique is posted here.
Working with city officials, RNRA has obtained detailed responses to each of the questions raised by the critique, which have been compiled in a summary Q&A document. The casino assessment critique Q&A is posted here. 
May 2022: City announces selection of Bally's Tribune site
On May 5, Mayor Lori Lightfoot announced that the Bally's Tribune proposal was her choice for the Chicago casino. The press conference may be viewed here.
May 2022: RNRA issues response
On May 6, RNRA published an official response to the Mayor's announcement. The RNRA response is posted here.
May 2022: RNRA submits questions to Bally's
On May 11, RNRA submitted a list of questions about the proposed Tribune site development to Bally's Corporation officials. These questions were also shared with administration officials, members of the Special City Council Casino Committee and local media outlets. Bally's responses to these questions will be posted online and shared upon receipt. RNRA's questions for Bally's Corp are posted here.
May 2022: Chicago Casino Town Hall
On May 12, the city hosted a public town hall meeting on the Bally's Tribune proposal. The event was held at the UIC Forum, located at 725 W Roosevelt, 2 1/2 miles south of the development site. Following a presentation by city officials and the Bally's team, attendees were given 90 seconds each to ask questions or make statements. RNRA's statement is posted here. 
---