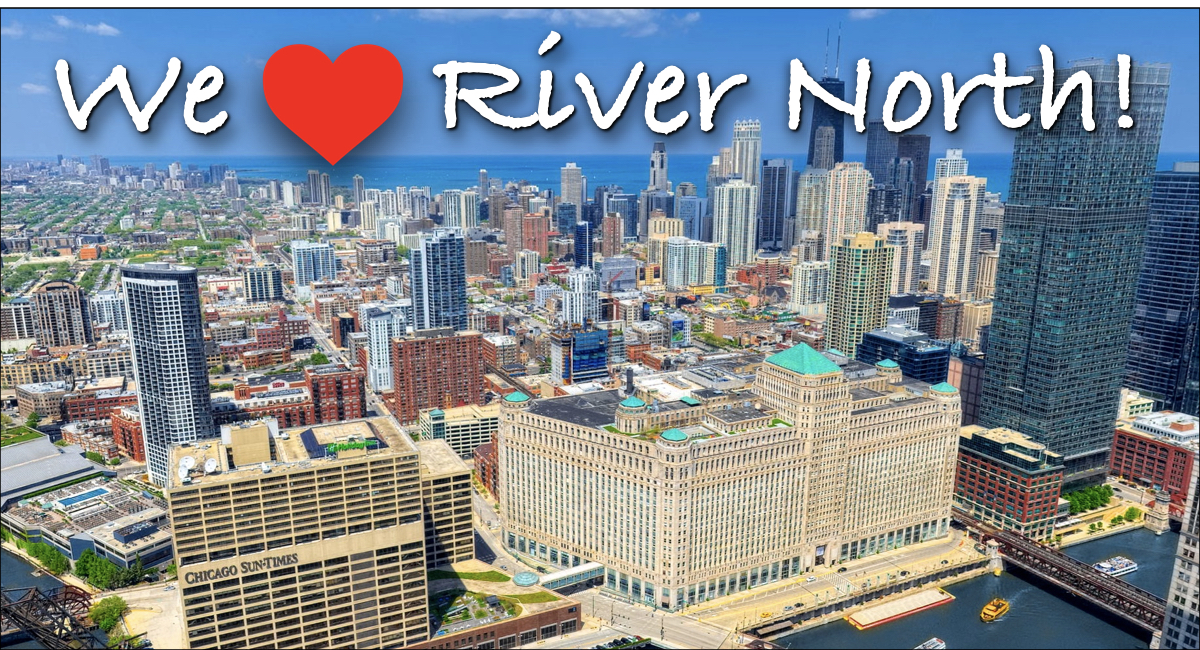 Q: Why does River North Residents Association exist?
A: Since 1997, RNRA's mission has been to protect and enhance the quality of life in River North, with emphasis on public safety, responsible development and land use, improved infrastructure and green spaces, a well-managed hospitality sector, and family programs and other public events. As the only pure resident advocacy organization serving River North, RNRA works closely with homeowners associations and other residential properties, elected representatives, public safety officials, local businesses, and other stakeholders to effect positive change.
Q: In a typical year, how does RNRA have an impact?
A: Virtually every day, in large and small ways, RNRA helps to make a great neighborhood, even better.
RNRA reviews and recommends improvements to proposed developments to ensure that projects are designed and executed in a way that enhances the community and considers the needs of all stakeholders.
RNRA helps to facilitate dialogue between residents, CPD Officers and local venues, to reduce crime and ensure a well-managed hospitality sector.
RNRA advocates for improved infrastructure, amenities, and public green space.
RNRA designed and manages River North Clean Streets, a non-profit that helps to make our neighborhood cleaner, safer, and more beautiful, while creating life-changing opportunities for hundreds of disadvantaged Chicagoans.
Each year, RNRA plans and conducts a popular outdoor film program in Ward Park, seasonal events for local families, an annual meeting and reception hosted by Tao Chicago, and a multi-day, food and music festival on the riverfront.
Please click here to access our Testimonials page.
Q: What has RNRA been doing recently?
A: In the last couple of years, the association has been focused on key issues facing our neighborhood.
RNRA has ramped up its efforts to support law enforcement in response to unprecedented incidents of serious crime and social unrest.
When adult use cannabis was legalized in Illinois, RNRA took on a key role in vetting dispensary applicants, recommending operational improvements, and facilitating community review meetings.
After the city announced plans to bring a casino to Chicago, RNRA became the most prominent neighborhood association working with Aldermen Reilly and Hopkins to vigorously oppose the Bally's Tribune casino development.
Since the City Council approved the proposal, RNRA has remained actively engaged in the effort to encourage changes to the plan in order to reduce negative impacts to the surrounding community, the citizens of Chicago, and the natural environment.
Q: How does the RNRA fund its programs and activities?
A: RNRA traditionally generates revenue in four primary channels: membership dues; local business sponsorships; small public events; and a large summer riverfront festival.
Q: Don't membership dues cover most of the expenses?
A: RNRA's annual membership dues are just $3.60 per household, or 30¢/month. In an average year, this amounts to around 12% of operating revenue.
Q: Why doesn't the organization raise membership dues?
A: One of our guiding principles is that our community is stronger when it speaks with one voice, so these costs have been kept intentionally low to reduce participation barriers and encourage community engagement.
Q: Where does the rest of the funding come from?
A: Local business sponsorships, social/networking events, a summertime neighborhood festival, and donations from generous organizations and individuals.
Q: What does RNRA spend money on?
A: RNRA runs a very tight ship from a financial perspective. The largest annual operating expense is for the organization's one indispensable staff member, our Executive Director, who, with the assistance of board members, committee chairs, and other volunteers, coordinates all the administrative, operational, and communications functions of the organization from home. We do not spend money on office space, additional personnel, or any other non-essential purpose. All resources support our mission.
Q: Are donations to River North Residents Association tax deductible? 
A: RNRA is a tax-exempt organization under IRS code 501(c)(3). As such, contributions to the organization are tax deductible to the extent allowed by law. Donors are advised to consult their tax professionals for more information.
Q: If people can't afford substantial contributions, are there other ways to help?
A: Donations in any amount are welcome and appreciated, but the organization also welcomes responsible, civic-minded people who want to help their community by volunteering. Just a few hours a month can make a big difference, and for those who wish to play a more significant role, volunteer work may eventually lead to a position on the leadership team. Go to RNRAChicago.org/Volunteer.
Q: How can local businesses get involved?
A: RNRA Sponsorship enables area businesses and organizations to promote their products and services to thousands of residents through our website, newsletters, film program, and the "My River North" mobile app. Details are at RNRAChicago.org/Become-a-Sponsor. Local business owners might also consider becoming "in-kind sponsors" by providing products or services that support our operations in exchange for promotional consideration. Email us to discuss the opportunity at info@RNRAChicago.org.
---
Click here to visit our Testimonials page
Click the green button to visit our Donate page.