Please read and share this information freely with any individuals or organizations who may be impacted by this important issue. If you would like to receive additional information on this and related topics from the River North Residents Association, please subscribe to our newsletter. Your non-public information will never be shared externally without your permission.
---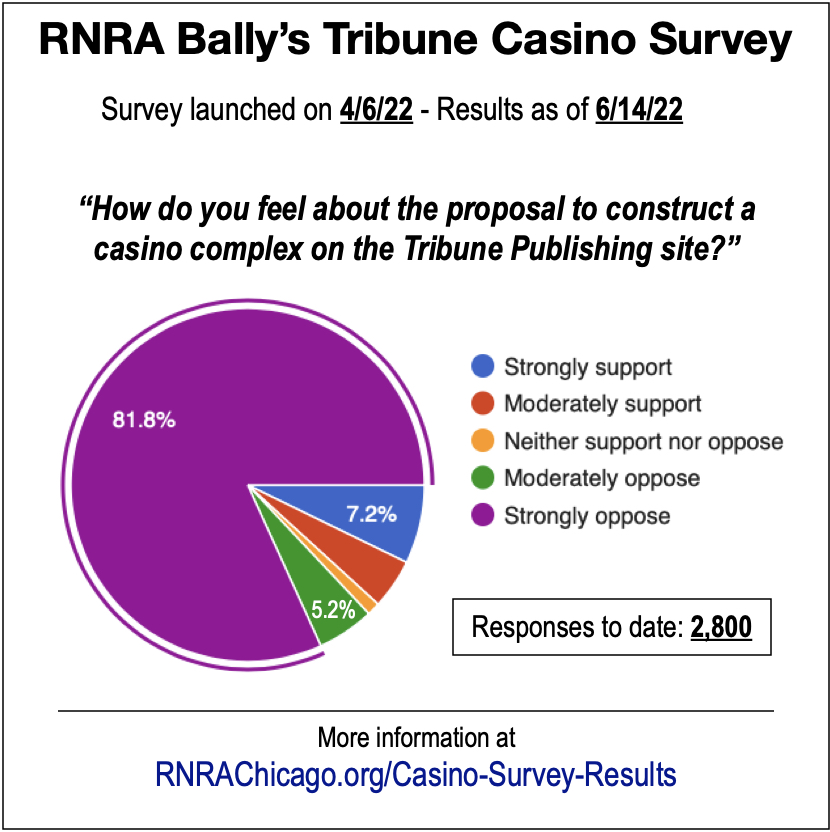 Regardless of your position on this issue, if you haven't taken the survey yet, please do so and let your voice be heard.
If you feel strongly about this, please to contact your Alderperson via email or phone and let them know what you think. Contact information for all 50 Wards is here. Thank you for being part of the process.
---
---
Chicago Casino Timeline
---
Spring 2021: City requests casino proposals
In the spring of 2021, the City of Chicago requested multiple proposals for the development of Chicago's first casino complex.
November 2021: City announces 5 bidders under consideration
These proposals, along with the original RFP, public presentations, traffic studies, and the city's Evaluation Report, can be accessed here. 
December 2021: RNRA raises concerns about Tribune site development
RNRA's Development and Land Use Committee and Board of Directors reviewed the proposal for a Bally's casino to be located on the site of the Chicago Tribune publishing facility known as the Freedom Center, located at Chicago Avenue and Halsted Street. On December 3, the RNRA Board sent a letter to Aldermen Walter Burnett (27), Brendan Reilly (42)  and Brian Hopkins (2), as well as to Samir Mayekar, Deputy Mayor for Economic and Neighborhood Development, and Maurice Cox, Commissioner, Department of Planning & Development. This letter described the significant negative impacts that a such a large-scale entertainment complex would have on traffic, public safety and quality of life for thousands of residents in the densely populated surrounding area. The letter is posted here.
March 2022: City announces 3 finalists
On March 22, the City announced the selection of three finalists, one of which will receive the sole license to operate a Casino in our city. The Bally's Tribune site is among these finalists. Three community meetings were scheduled so that attendees could learn more about each site and have an opportunity to ask questions and share comments or concerns. Every seat in the April 6 meeting about the Bally's Tribune proposal was reserved, which demonstrates the level of public interest in this issue. Those who were unable to attend should watch the Livestream. 
March 2022: IDHS publishes statewide problem gambling study
Commissioned by IDHS and conducted by researchers at Health Resources in Action (HRIA), the assessment reports on the prevalence of different types of gambling in the state, the availability of treatment and other services, the prevalence of problem gambling among different groups, and overall attitudes about gambling. The report may be viewed here.
April 2022: RNRA launches public casino survey
On April 6, RNRA launched a public survey to capture candid feedback from impacted members of the community. The introduction to the survey included links to all of the materials prepared by the developers and the city, as well as to RNRA documents raising questions about, and pointing out potential negative impacts from, the proposed development. The survey was structured in such a way that respondents could express support for, or opposition to, the casino with equal ease. To date, over 2,800 respondents have participated, with more than 87% expressing strong or moderate opposition. The results may be viewed here.
April 2022: RNRA publishes critique of Bally's Tribune assessment
Also on April 6, RNRA introduced a critique of the assessment of the Bally's Tribune proposal, which is contained in the city's evaluation report. This critique, developed by RNRA's Development and Land Use Committee and sent to the office of the Mayor and Members of the Special City Council Committee on the Chicago Casino, raised important questions about key elements of the proposal. The critique is posted here.
Working with city officials, RNRA has obtained detailed responses to each of the questions raised by the critique, which have been compiled in a summary Q&A document. The casino assessment critique Q&A is posted here. 
May 2022: City announces selection of Bally's Tribune site
On May 5, Mayor Lori Lightfoot announced that the Bally's Tribune proposal was her choice for the Chicago casino. The press conference may be viewed here.
May 2022: RNRA issues response
On May 6, RNRA published an official response to the Mayor's announcement. The RNRA response is posted here.
May 2022: RNRA submits questions to Bally's
On May 11, RNRA submitted a list of questions about the proposed Tribune site development to Bally's Corporation officials. These questions were also shared with administration officials, members of the Special City Council Casino Committee and local media outlets. Bally's responses to these questions will be posted online and shared upon receipt. RNRA's questions for Bally's Corp are posted here.
May 2022: Chicago Casino Town Hall
On May 12, the city hosted a public town hall meeting on the Bally's Tribune proposal. The event was held at the UIC Pavillion, located at 725 W Roosevelt, 2 1/2 miles south of the development site. Following a presentation by city officials and the Bally's team, attendees were given 90 seconds each to ask questions or make statements. RNRA's statement is posted here. 
May 2022: ordinance approved by Special Committee on Casinos
On May 23, the Special City Council Committee on Casinos approved an ordinance amending Titles 2, 4, 8 and 17 of the Municipal Code regarding a casino in the City of Chicago (O2022-1316) (Direct Introduction to the Committee on 5-9-22); and a resolution concerning the development and operation of a casino in the City of Chicago by a vote of 27 to 3. The meeting may be viewed here.
May 2022: City Council approves casino proposal
On May 25, over the objections of 42nd Ward Alderman Reilly, 2nd Ward Alderman Hopkins, 43rd Ward Alderwoman Michele Smith, and others, the full City Council approved the Bally's Tribune casino development recommended by Mayor Lightfoot, including both the permanent facility at Chicago and Halsted and the temporary facility in the Medinah Temple building at 600 N Wabash, by a vote of 41 to 7. The matter must now go to the Illinois Gaming Board for final approval. The City Council meeting may be viewed here.
June 2022: RNRA Issues Casino Improvement Recommendations
At each Casino Community Meeting, Bally's representatives and City Officials talked about a robust community engagement process that would take place if the proposal were approved by the City Council, during which, adjustments to the initial plan would be reviewed and considered. On June 14, RNRA issued a document, outlining improvements aimed at reducing potential negative impacts from this development, to City Officials, Members of the Special City Council Casino Committee, and the Illinois Gaming Board. The document may be viewed here. 
June 2022: RNRA Joins Casino Community Advisory Council (CCAC)
On June 16,  the City issued a press release stating that the Mayor "looks forward to continuing to engage with community through the establishment of a Casino Community Advisory Council". Details and a link to the application form may be accessed here.
On June 23, RNRA issued a letter to city officials, media outlets and and other stakeholders, designating its representative on the CCAC. The letter may be viewed here.
July 2022: First Direct Meeting between Bally's and RNRA 
On July 7, officials representing Bally's Corporation met for several hours with members of the RNRA leadership team to discuss each of the 42 project improvement recommendations published in June 14. A summary of the initial meeting may be viewed here. 
July 2022: First Community Meeting on Temporary Casino Site
On July 19, City officials hosted a webinar, at which Bally's representatives and project architects described their plans for transforming the Medinah Temple property into a temporary casino, while preserving historically significant elements of the iconic building. Presenters did not entertain any questions about the temporary facility that were not directly related to historic preservation, but assured participants that they would be addressed in a separate forum. A recording of the webinar may be viewed here.
September  2022: CCAC is Finalized
On September 8, Mayor Lightfoot's office issued a press release announcing the composition of the 19-member Casino Community Advisory Council (CCAC). RNRA will be ably represented by the Volunteer Chair of our Development and Land Use Committee, Ms. Robin Schabes. We look forward to a meaningful and productive process. The Mayor's press release may be viewed here.
On September 14, the Department of Planning and Development's Committee on Design conducted a meeting to review the latest plans for the permanent casino. The meeting was live-streamed for members of the CCAC, many of whom actively participated in the dialogue. The video recording may be viewed here. The presentation deck may be viewed here. 
---