River North is a unique and wonderful neighborhood with three miles of riverfront, historic architecture, a vibrant creative community, world class dining, and a thriving nightlife.

The Problem
Unfortunately, our many visitors often leave a shocking amount of litter behind when they head home after a night on the town. Since the Department of Streets and Sanitation has limited resources on weekends, the neighborhood has to live with unsightly and unsanitary streets and sidewalks until Monday morning.

The Solution
River North Clean Streets is a social enterprise created and managed by the River North Residents Association. RNCS has has partnered with an organization called Cleanslate Chicago to provide street cleaning services in our neighborhood on Saturday and Sunday mornings all summer long. In their bright yellow vests, our friendly, well-trained crews pick up tons of garbage and recyclable materials, leaving our community cleaner, safer and healthier.
The Benefits
Great PR for Block and Program Sponsors; with neighbors, customers and city officials
Keeps establishments looking great and reduces the risk of expensive fines
Deters crime and improves public health and safety
Promotes recycling and enhances property values and quality-of-life
Provides potentially life-changing employment, training and support for hardworking Crew Members eager to move towards self-sufficiency
Additionally, if businesses are hiring, the disciplined, reliable, and motivated RNCS crew members make great permanent employees
To learn more and/or to sponsor a block, please visit RNCleanStreets.org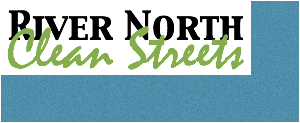 We wish to acknowledge and thank the Sponsors of River North Clean Streets, whose generous support makes this program possible.
2023 Program Sponsors
2023 Block Sponsors
400 N. LaSalle Condominium Association

P&W Partners (2 blocks)

Tao Chicago (2 blocks)