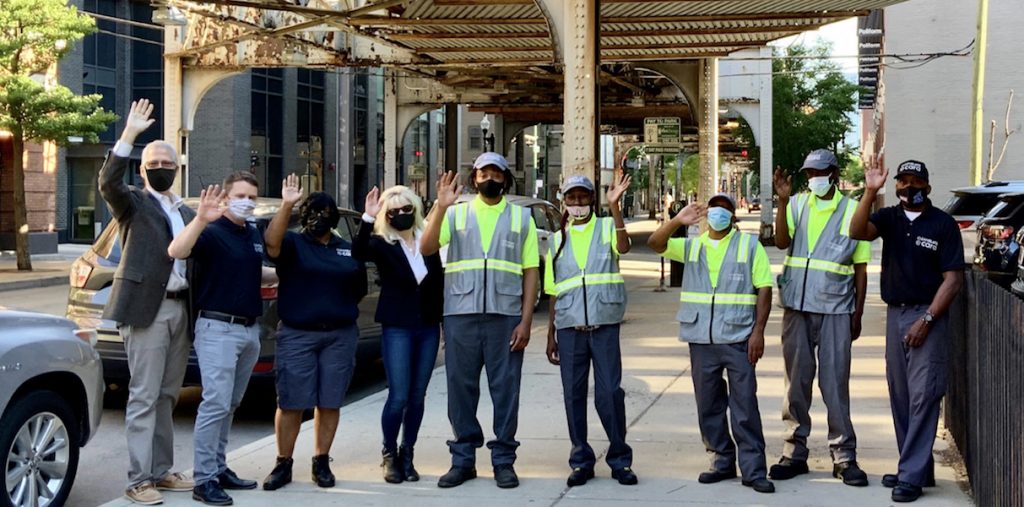 RNRA manages a separate non-profit organization called River North Clean Streets (RNCS), which provides training, support and transitional employment to people affected by poverty (and often the challenges of recovery, domestic violence, episodic homelessness, and incarceration).   Through the performance of much-needed weekend street cleaning services, RNCS crew members rebuild hope, self-esteem and opportunity for themselves and their families.
Since our founding in 2017, we have achieved outstanding results together:
Weekend cleaning services were performed on up to 38 of River North's neediest blocks
2,385 bags of trash and 941 bags of recyclables (over 40 tons) have been removed from our streets
406 hard-working RNCS interns have participated in the program
171 interns secured permanent employment at a current average hourly wage of $14.23
Since most of our typical Block Sponsors work in the hospitality sector, many were unable to continue supporting us while struggling to keep their doors open and their staff employed during the pandemic.
It seemed inevitable that we would have to suspend operations in 2021, but fortunately, three prominent local organizations stepped up with emergency funding. The generosity of Verilife, Salesforce and Sunnyside enabled us to continue operations during this challenging period. These benefactors, along with eleven other Block Sponsors, epitomize good corporate citizenship. Thanks to them, RNCS makes River North cleaner, safer and more beautiful, while creating potentially life changing opportunities for our excellent crew members.
With a little luck, RNCS will be able to resume its original funding model in 2022. To learn more about River North Clean Streets, visit us online at RNCleanstreets.org.