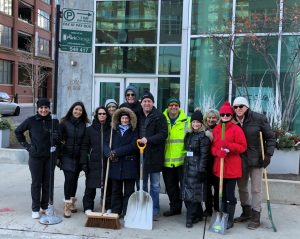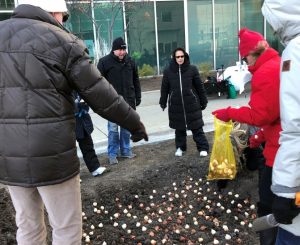 On Saturday, November 10, Alderman Reilly hosted a Tulip Bulb Planting Event in River North.  Thank you to all the RNRA volunteers who came out in the cold to plant, Peet's Coffee and Tea for donating hot coffee and Alderman Reilly who personally purchased the tulip bulbs which will blossom into beautiful purple, yellow and red tulips in the Spring
Over 100 Jumbo Darwin Mix tulip bulbs were planted in each new curb extension that is part of Alderman Reilly's new traffic calming improvement project recently installed in River North.  Vital infrastructre improvements were installed in response to reports of speeding cars and pedestrian safety concerns along Erie Street, between Kingsbury and Sedgwick. Alderman Reilly allocated a portion of his Aldermanic Menu to fund the installation of these important River North safety improvements.
River North is home to a large (and growing) number of families, as well as several daycares and a popular park with robust children's and dog amenities. All of these factors contribute to significant pedestrian traffic along Erie Street in River North.
Alderman Reilly asked the Chicago Department of Transportation (CDOT) to survey West Erie Street, from N. Kingsbury Street to N. Sedgwick Street. CDOT traffic engineers developed a comprehensive traffic calming design intended to slow vehicular traffic and improve pedestrian safety along West Erie Street.
Concrete curb extensions have been installed on Erie Street, at the intersections with Kingsbury, Hudson, and Sedgwick Streets. Curb extensions narrow the roadway and help slow vehicular traffic, and bring stop signs closer to the driver. Curb extensions also reduce the pedestrian crossing distance and improve visibility between drivers and pedestrians.
For additional traffic calming, CDOT installed a speed hump and curb extensions mid-block on Erie Street between Kingsbury and Hudson, and another mid-block between Hudson and Sedgwick. Mid-block speed humps were installed on Superior, between Larrabee and Orleans, and will be installed on Huron, between Larrabee and Orleans.
Speed humps are self-enforcing traffic calming tools that reduce travel speeds as drivers are forced to slow down in order to traverse the humps.  The new speed humps will reduce overall vehicular and pedestrian crashes within this corridor.