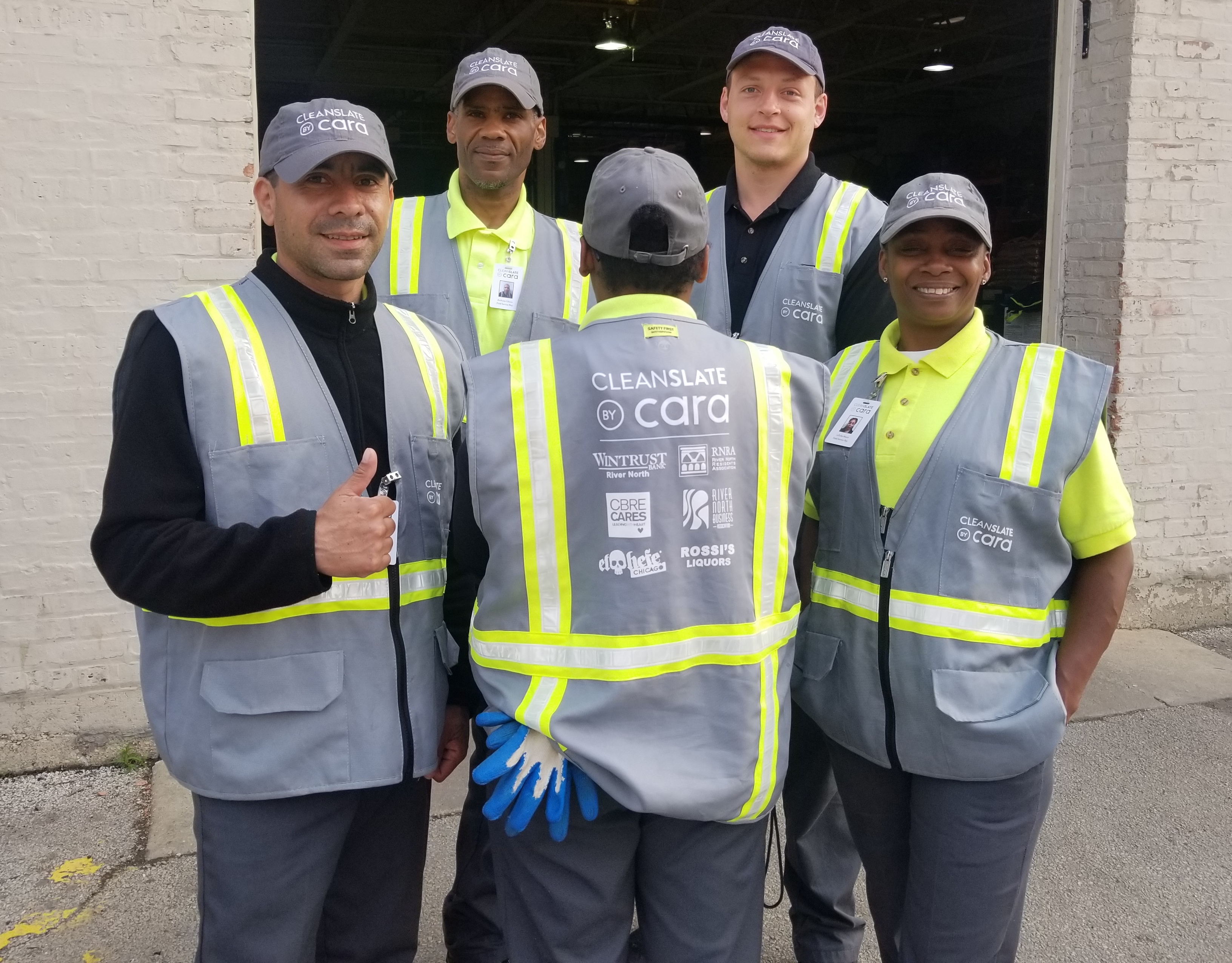 River North is a unique and wonderful neighborhood with miles of riverfront, historic architecture, world class dining and thriving nightlife.
The Problem: Unfortunately, our many visitors often leave a shocking amount of litter behind when they head home after a night on the town. Since the Department of Streets and Sanitation has limited resources on weekends, the neighborhood has to live with unsightly and unsanitary streets and sidewalks until Monday morning.
The Solution:  The River North Clean Streets has arranged for Cleanslate Chicago  to tidy up our neighborhood on Saturday and Sunday mornings.  In their bright yellow vests, the friendly, well trained Cleanslate crews pick up tons of garbage and recyclable materials, leaving our community cleaner, safer and healthier.
The Benefits:  Keeps our neighborhood looking great, promotes recycling, deters crime, improves public health and safety and provides life-changing support, training and temporary employment for hardworking Cleanslate interns eager to move toward self sufficiency.
Now in it's third successful year, River North Clean Streets is a 501(c)3 non-profit, jointly managed by the River North Residents Association and the River North Business Association and endorsed by both Alderman Brendan Reilly and Commander Daniel O'Shea.
In 2018:
620 bags of trash and 292 bags of recyclables (over 10 tons) were removed from our streets.
101 hard-working crew members received potentially life-changing opportunities.
This program is made possible by local businesses, organizations and individuals who are willing to become block or program sponsors.  We wish to express our gratitude to all of our sponsors who are helping to maintain a cleaner, safer and more compassionate River North.
To view participating Block Sponsors, click here.
To view participating Program Sponsors, click here.
Click here to learn about the amazing deal and current service area. To become a sponsor click here.