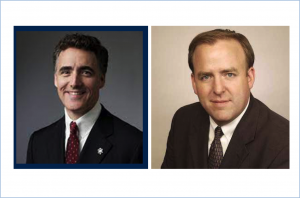 On Wednesday, March 2, Alderman Reilly co-hosted a public safety webinar with Cook County Sheriff Tom Dart. The webinar was very informative and hundreds of Chicagoans attended.
During the webinar, Sheriff Dart announced that he opened a satellite office in River North and his Deputies are taking an active role in policing the Downtown neighborhoods. Sheriff Deputies have radio interoperability with the Chicago Police Department (CPD) and will assist with responding to 9-1-1 calls.
Additionally, the Sheriff's Office discussed their carjacking taskforce, City-wide and 42nd Ward specific crime statistics, provided tips to help avoid becoming a carjacking victim, and outlined Sheriff Dart's efforts to get major automakers to set-up a 24/7 hotline which would help law enforcement track stolen vehicles quickly. CLICK HERE to find out more about this program and how you can register your car.   Filling out and submitting the consent form will allow law enforcement to access data location information for the described vehicle from the relevant car company if the car has been unlawfully taken and such information is available. Swift access to such information can help law enforcement recover the vehicle.
If you were unable to attend the webinar, you can view the recording HERE.