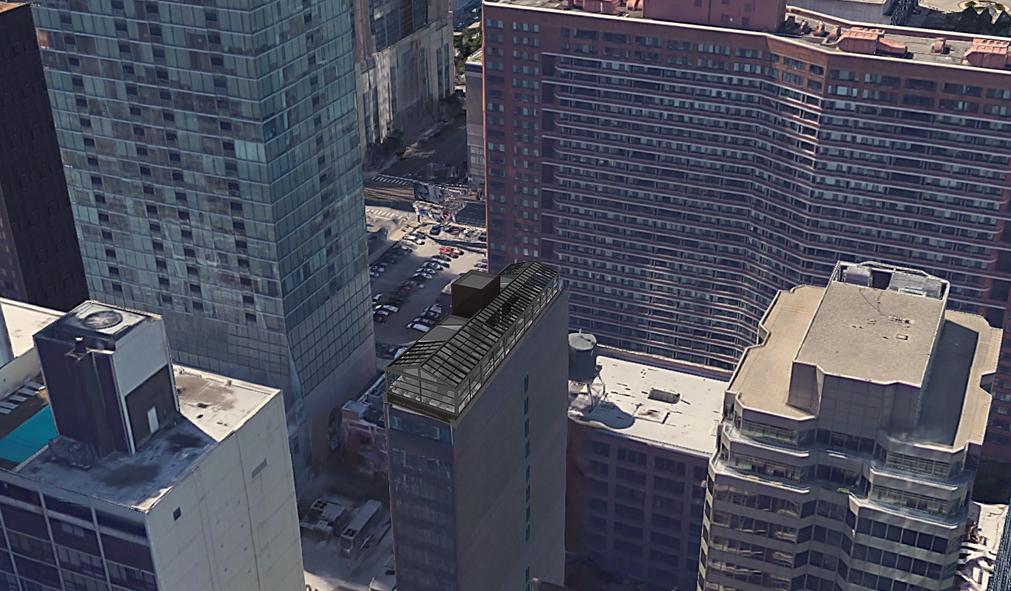 The Ivy Hotel, 233 E. Ontario Street – (proposed rooftop addition pictured above)
The Ivy Boutique Hotel, located at 233 E. Ontario Street, is an upscale, independent property with 63 hotel rooms. The Ivy Sky Terrace is currently operating on the roof of the building as a seasonal open-air rooftop food and beverage operation.
The new owners of the Ivy, 233 E. Ontario Hotel Propco LLC, led by Andre Koren and Frank Anderson, would like to install a retractable enclosure for the rooftop, to make the Sky Terrace a year-round amenity for hotel guests and the community. This will also improve the aesthetics of the rooftop view since it encloses a portion of the existing mechanical equipment.
In order to construct the roof top enclosure, a rezoning to a Planned Development is required since the additional enclosed area will exceed the permitted floor area ratio ("FAR") allowed for the building in the DX-12 Downtown Mixed-Use zoning district. The rooftop enclosure will be lower than the existing elevator penthouse and will be constructed with high quality materials.
The project development team will also be required to present their plans for approval to the Chicago Plan Commission, Committee on Zoning, Landmarks and Building Standards, and City Council.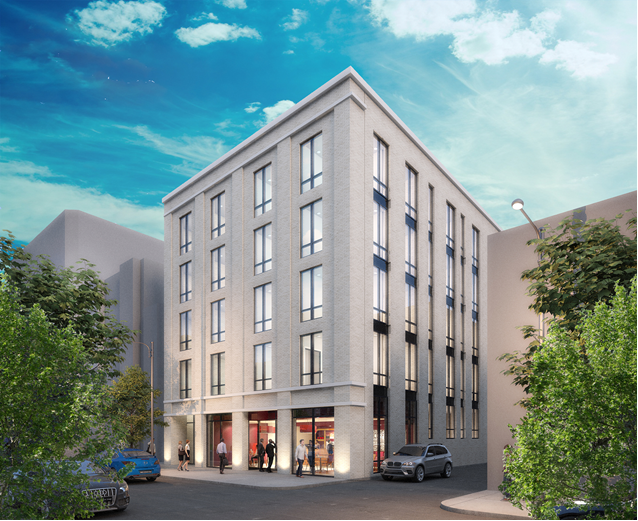 61 W. Erie Street
LG Development Group is proposing a new project for 61 W. Erie Street, which will rejuvenate the long dormant site. LG had formerly proposed a 12-story building, which required Planned Development approval. The new proposal would be built in compliance with the underlying zoning district, and would be 7 floors lower, at 5 stories.
The new proposal has been designed for a Sonder flagged boutique hotel with 29 hotel keys designed as luxury apartment rentals. The proposed 5-story brick building would be constructed with contemporary commercial glazing to anchor the site.
The ground floor is comprised of a boutique retail space, hotel lobby, loading and back of house spaces at the rear of the property. The 2nd through 5th floors each contain 7 apartment style hotel keys that range from studios to 3 bedroom units. The penthouse level contains 1 hotel key and a small rooftop deck.
Sonder maintains a large portfolio of hotel keys throughout the city of Chicago and boasts a high level of service and security for both its guests and neighbors alike. Sonder enforces house rules for all of its patrons and will employ on-site staffing at all times in order to provide the best service possible. Sonder maintains a staff 20+ Chicago-based team members to ensure the success and quality of their operations.
As part of Alderman Reilly's transparent community process for new developments, your comments and observations are welcome for these projects.
Please forward any feedback to: development@ward42chicago.com.
Source:  Alderman Reilly Reports 9/13/19