Date/Time
Date(s) - 08/07/2018 - 08/28/2018
5:00 pm - 6:15 pm
Location
St. James Cathedral
Category(ies)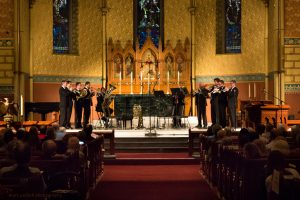 The International Music Foundation Presents – Rush Hour Concerts 2018
Enjoy Free Weekly Classical Music Performances Just Steps Away From The Magnificent Mile
The International Music Foundation (IMF) is proud to present the Summer 2018 season of Rush Hour Concerts (RHC). Beginning June 5 and continuing every Tuesday through August 28, join IMF for free weekly classical music performances at St. James Cathedral located at 65 East Huron Street in Chicago's Gold Coast neighborhood.
Rush Hour Concerts, founded by Deborah Sobol in 2000, aims to reinvent the traditional classical music concert format by presenting short, high-quality chamber music performances in an intimate and informal setting. Each free 30-minute concert is performed by world-class musicians from Chicago ensembles including the Chicago Symphony Orchestra, the Lyric Opera of Chicago and numerous independent chamber music groups.
"With this series, we really want to break down barriers to access – including time and cost – to provide an inspiring chamber music experience to a broad audience," said RHC's Artistic Director Anthony Devroye.
Each concert will be preceded by a pre-concert conversation led by Devroye, featuring that week's artists and/or composers. "The idea behind the conversation is to introduce the audience to the performers and to discuss the piece they are about to experience," Devroye said. Post-performance, patrons are invited to interact with performers to round out a complete cultural experience.
This year, Rush Hour Concerts will participate in the worldwide celebration of the centennial of the birth of American composer Leonard Bernstein. The season opens June 5 with "Bernstein Centennial" featuring his song cycle Arias and Barcarolles. The theme continues on June 26 with "Bernstein's Orbit" featuring composers touched by Bernstein's musical style. The season closes on August 28 with a performance of Chichester Psalms featuring conductor Stephen Buzard and the St. James Cathedral Choir.
All throughout the month of July, Rush Hour Concerts will feature music paired with other artistic mediums: poetry, dance, videography and more. Regular favorites returning this summer include Civitas Ensemble, singers from the Ryan Opera Center at Lyric Opera of Chicago, Chicago Symphony Orchestra cellist Brant Taylor, pianist Kuang-Hao Huang, and Axiom Brass; as well as performers new to the series including baritone Michael Cavalieri and Chicago-based chamber ensemble, Picosa.
The remaining Rush Hour Concerts schedule is as follows:
August 7 – Chicago Connections
Joseph Schwantner: Black Anemones 
Augusta Read Thomas: Scat
Shulamit Ran: Mirage
Picosa
August 14 – Deborah Sobol Memorial
Schubert: String Quintet in C Major
Avalon String Quartet
Clancy Newman, cello
 August 21 – Cuarteto
Bragato: String Quartet
Piazzolla: Verano and Otoño
Kaia Quartet
August 28 – Season Finale
Bernstein: Chichester Psalms
Stephen Buzard, conductor
St James Cathedral Choir 
Doors open at 5:00
Pre-concert conversation begins at 5:15PM 
Performance starts at 5:45PM 
For those who miss the concert or would like to experience the performance again, most concerts will be broadcast the following Friday on Lisa Flynn's "Music in Chicago" on 98.7WFMT.
The Clare is the exclusive media sponsor for Rush Hour Concerts.
About The International Music Foundation
The International Music Foundation (IMF), founded in 1976, is dedicated to presenting free high-caliber classical music performance and music education experiences in the Chicago metropolitan area for people of all ages and degrees of musical awareness.  IMF offers the following programs and educational experiences: Dame Myra Hess Memorial Concerts, Rush Hour Concerts, Do-It-Yourself Messiah, Make Music Chicago, Live Music Now!, and professional ensemble educational residencies. For more information, visit www.imfchicago.org or contact IMF Executive Director, Mark Riggleman at (312) 670-6888 | mriggleman@imfchicago.org.