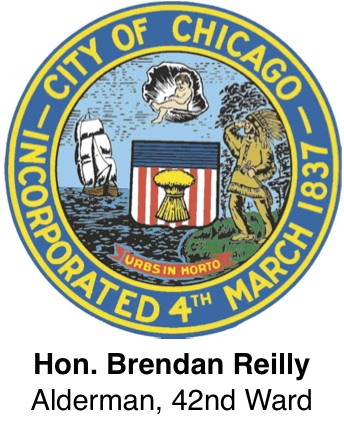 Alderman Reilly is excited to announce the official opening of River North's new and improved dog park at A. Montgomery Ward Park, located at 630 N. Kingsbury Street.

Construction of the new dog park began in June of this year, after Alderman Reilly secured funding for the project with Tax Increment Financing (TIF).
This dog-friendly area (DFA) has already been a hidden gem of the River North neighborhood, offering residents and visitors an open space where dogs can play and interact, leash-free, in a fenced-off open space. Improvements include a new entry and fencing, dog-friendly running surfaces, and a drinking fountain (complete with a water source at dog-level).  Humans can enjoy new benches and ADA accessibility.  The A. Montgomery Ward Park now has one of the best dog parks in the entire city!
Alderman Reilly looks forward to enjoying the new dog park with residents of the 42nd Ward at the Official Grand Opening and Ribbon Cutting Ceremony!
Please join Alderman Reilly, Max and Buster (the Alderdogs of the 42nd Ward) in celebrating the opening of the dog park:
Saturday, September 13, 2014, 11:00am
A. Montgomery Ward Dog Park
630 N. Kingsbury Street
Chicago, IL 60654
Please note the new Dog Friendly Area (DFA) is located off Erie Street. A. Montgomery Ward Park which along the river and includes the children's playground prohibits dogs at any time. Please be considerate, thank you!