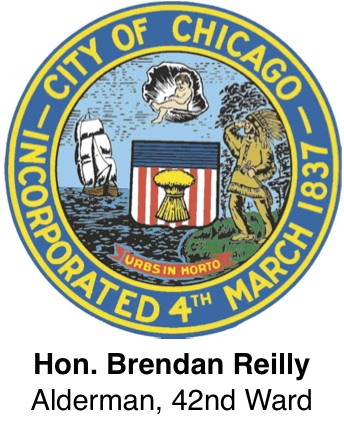 Alderman Reilly and the River North Residents Association invites you to join him at a public presentation for a development proposal at the southwest corner of Franklin and Illinois. Representatives of the Illinois Franklin LLC team will present their plans and answer questions you may have about their proposal.
The applicant has submitted a proposal for the development of a 23-story residential building with ground floor retail and commercial space. Approximately 108 accessory off-street parking spaces will be provided. The site is currently used as a surface parking lot. The adjacent Assumption Church site is included in the overall development parcel, and a portion of the accessory parking will be dedicated for use by the church. The overall development proposal includes a 1-2 story vertical expansion of the existing priory building and enhancements to the existing gardens.
WHAT:  Southwest Corner of Franklin and Illinois, Chicago, Illinois
WHO:    Hosted by Alderman Brendan Reilly and RNRA
WHEN:  Tuesday, September 8, 2015 at 6:00 pm
Where: Gino's East – River North Location
            500 North LaSalle, 3rd Floor
We hope you will join the Alderman and RNRA to engage in a direct dialogue with the development team to gain a better understanding of their proposal and receive answers to any questions you may have.