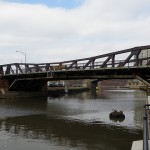 The Chicago Department of Transportation (CDOT) will implement a full closure to vehicular and pedestrian traffic of the Grand Avenue Bridge over the North Branch of the Chicago River.
The bridge closure begins September 23rd at 7:00pm and will be in place for 2 weeks.
This closure is necessary for CDOT to perform the emergency repairs, which cannot be completed while the bridge is open to traffic. The work entails replacing steel components on the four corners of the bridge and is expected to take two weeks to complete. The Grand Avenue Bridge will be closed from 7:00pm on Monday, September 23 to 6:00am on Monday, October 7, 2013.
For information on detour routes, please refer to the map below or click here to download a PDF copy. You may also contact CDOT representative Oswaldo Chavez at 312-742-0647 and Oswaldo.Chaves@cityofchicago.org with questions.