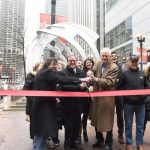 Earlier this week, Alderman Reilly was joined by Chicago Department of Cultural Affairs and Special Events (DCASE) Commissioner Mark Kelly and Chicago Loop Alliance President Mike Edwards for the dedication of Loop Da Loop, a new sculpture from artist John Adduci, commissioned for the 42nd Ward as part of DCASE's 50 x 50 Neighborhood Arts Project.  The sculpture was installed at the median on State Street, just north of Lake Street – known at the Gateway on State.
Loop Da Loop is a large-scale public sculpture, crafted from aluminum and steel, and stands at eleven feet tall.  It draws inspiration from its site and incorporates concepts of "the Loop" on multiple levels.  Designed to enhance the surroundings, the sculpture's forms reference the "L" tracks – situated directly above and below the sculpture, and intertwines local typography with the unforgettable "C" – a classic symbol of the city.  Loop Da Loop includes enough abstraction that individuals can discover their own interpretation as well as simply enjoy the sculpture's aesthetic.
John Adduci is an internationally recognized artist, craftsman, fabricator, and lifetime Chicago resident based on the Near North side.  He maintains a strong presence in Chicago's sculpture and art communities, with works exhibited throughout the city, including private collections, educational institutions such as Lincoln Park Zoo and Chicago Children's Museum, and Universities of Illinois and Urbana Champaign.
Alderman Reilly Reports 12/22/17