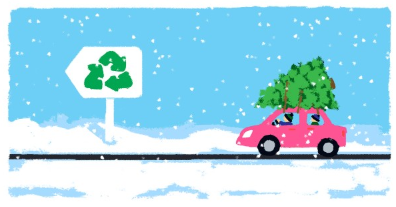 Chicago's free Christmas Tree Recycling program kicked off January 4th at dozens of parks across the city, including one in the 42nd Ward! The benefits of recycling/mulching trees are twofold: nutrients from the trees are preserved and given back to the soil, while tons of valuable organic material is diverted from landfills.
The program runs from January 4th through the 18th and accepts only live/natural trees (no garland or wreaths) without flocking. Because the trees are mulched, all tinsel, ornaments, lights, and stands must be removed. Plastic bags used for transport should also be removed before putting trees in the stalls.
The mulch that's created from the Christmas Tree Recycling program is used in local parks to protect and nourish plants and soil. Mulch will also be made available to Chicago residents, free of charge, starting January 6th at six park locations.
2020 Tree Recycling Locations (in or near the 42nd Ward)
• Grant Park, 900 South Columbus Drive
• Sheridan Park, 910 South Aberdeen Street
• Lincoln Park (East of Cannon Drive), Cannon Drive at Fullerton Avenue
• Starting January 6th, will also provide free mulch on a first-come, first served basis.
In 2019, over 17,000 trees were composted, just through the City's program. Those efforts diverted an estimated 620,000 pounds from landfills and gave our soil some love instead.
Help spread the word about the Christmas Tree Recycling program and consider taking a neighbor's tree along if you have space. Let's make this year the program's most successful year yet!