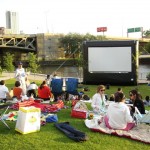 The votes have been counted…and the six movies that will be shown in the A. Montgomery Ward Park during RNRA's  Summer 2015 season are:
"Unbroken", "The Fugitive," "Into the Woods," "Groundhog Day", "A League of Their Own," and "Frozen – Sing Along."
Our first movie will begin June 16th. Other dates will be announced once confirmed by the Chicago Park District.
Movies are sponsored by your River North Residents Association (RNRA) and the Chicago Park District.
Thank you to the hundreds of residents who  participated in our
survey.
Interested in sponsoring a movie, please contact us too.