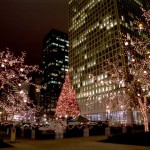 The City of Chicago and UL presents the 100th Anniversary of the Christmas Tree Lighting Ceremony in Daley Plaza on Tuesday, November 26. The centennial celebration begins at 5 pm with a music program and the tree lighting ceremony at 6pm. Admission is FREE. Live performances begin at 5pm with feature performer Darlene Love, best known for her work with Phil Spector in the 1960s holiday favorite "(Christmas) Baby Please Come Home."
 The program and ceremony will be emceed by father-and-son journalists Lester Holt, host of Dateline NBC and weekend anchor for Today and NBC Nightly News, and Stefan Holt, Anchor, Mornings, NBC 5 Chicago. The hour-long program will feature The Trainees from the Joffrey Academy of Dance, official school of The Joffrey Ballet, performing an excerpt from the holiday classic The Nutcracker. Other performances include songs from Broadway in Chicago's Elf the Musical and Rudolph the Red-Nosed Reindeer: The Musical™.
 In 1913, the first Christmas tree was a gift to the residents of Chicago from an associate of Captain Herman Scheunemann and was lit in his honor. He was the captain of the Rouse Simmons, known as the "Christmas Tree Ship." The ship was lost in a storm on Lake Michigan on November 23, 1912.
 The first municipal Christmas tree was lit on December 24, 1913 by Mayor Carter H. Harrison in Grant Park.  The tree was a 35-foot Douglas Spruce placed on 40-foot poles and studded with smaller trees to give the appearance of a much larger tree. It was decorated with 600 multi-colored lights and topped with the Star of Bethlehem.
 Since 2009, Chicago's Christmas tree has been a single tree donated by a Chicago-area family. During the summer and early fall, the Department of Cultural Affairs and Special Events received more than 90 submissions from Chicagoland residents who hoped that their tree would be selected to shine on Daley Plaza during the holidays.