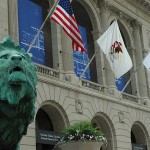 River North teens who are interested in art and museums are invited to the first Teen Event, planned and hosted by the Art Institute Teen Council, on Saturday, June 8th from 1:00-4 pm in the Ryan Education Center. This event is FREE and open to any teen.
The Art Institute Teen Council, a group of 11 teens from all over Chicago, has planned this event to feature art-marking, food, music, teen performances, and to highlight the Teen Council exhibition, on view in the Ryan Education Center. Teens can drip in any time to participate in the activities and get more infomation about how to get involved in other programs for youth.
This event will hopefully attract a wide range of teens to the museum and to allow their ideas and energy to be visible in the museum and in the Education Center. For more information, www.artic.edu/learn/teens/teen-council.