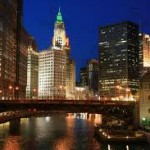 After being closed for the past year, the newly reconstructed Wells Street Bridge over the Chicago River opened up on Thursday, November 21st.  Alderman Reilly joined Mayor Emanuel, CDOT Commissioner Gabe Klein, CTA President Forrest Claypool and other officials to reopen the bridge.
The complex project included replacing the trusses and all of the steel framing for the lower level road and upper level railway structures.  The mechanical and electrical components were also replaced, and the bridge's historic elements, railings, bridge houses and major structural components were reconstructed to preserve the 1920s look of the bridge.
At the same time, the CTA rebuilt the Loop 'L' junction at Lake and Wells Streets, known as Tower 18, and performed additional track replacement at the curve over Hubbard Street between Wells and Franklin Street.  Combining their work saved CDOT and CTA a total of $500,000 in construction coordination costs.
The $50 million Wells Bridge project was funded through a combination of state and federal transportation improvement funds.