On January 20, 2022, Alderman Brian Hopkins (2nd Ward)  hosted a webinar with Cook County Sheriff Tom Dart and Roe Conn from the Sheriff's Office to discuss their work with the Vehicular Hijacking Task Force.   Please click here to view the discussion.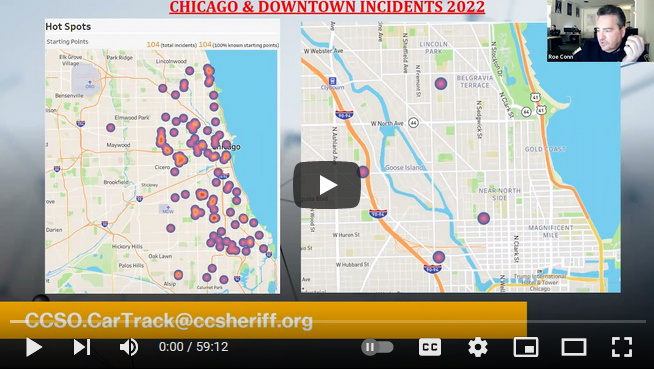 The topics covered included how the Cook County Sheriff's Office coordinates patrol and investigation teams, their data analysis and predictive models, ongoing investigations, discussions of what it's like to be part of active pursuits, vehicle tracking permissions, and awareness tips for residents.
Carjackings have risen by approximately 43% in Cook County in 2021 compared to the same period last year. Additional efforts by the Chicago Police Department, including deployment locations and strategies, can be also found in a previous webinar  Alderman Hopkins hosted, located here.
One of the newest programs the Cook County Sheriff's Office offers for residents is the Consent-to-Release-Data Form. Filling out and submitting this form will allow law enforcement to access data location information for your vehicle from the relevant car model ONLY if the car has been unlawfully taken. Swift access to such information can help law enforcement recover your vehicle in the event of it being stolen.
Email the completed form, located here, to ccso.cartrack@ccsheriff.org and keep a copy for your records.
Motorists can also display a new awareness sticker on their vehicle that lets would-be criminals know the vehicle is trackable. The stickers are now available at courthouses and sheriff's police stations. For more information on this program, please contact the Cook County Sheriff's Office.
Regarding the ongoing efforts by the Vehicular Hijacking Task Force, units have been assigned to West Town, Lincoln Park, Old Town, Gold Coast, River North, and Streeterville. At this time, 55 officers have been assigned to the Vehicular Hijacking Task Force.
Please remain vigilant and report suspicious activity to 9-1-1 immediately. To help residents keep themselves safe, CPD has created a flyer with carjacking prevention tips and guidance on what to do if you are carjacked. CLICK HERE for the flyer.
If you have any information that could assist police as they work to apprehend perpetrators, please contact your local Police District by using this search tool to find their contact information.