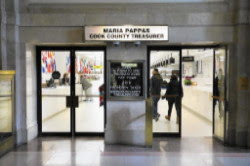 Are you in jeopardy of having your taxes sold at the next Annual Tax Sale on May 4, 2018.
In many cases, some individuals are considered "most vulnerable" based on prior tax sale history and because they may not even be aware of their delinquency.   These individuals have not updated their mailing address with the Treasurer's office, and as a result, the U.S. Postal Service returned their tax bill "undeliverable."
Visit www.cookcountytreasurer.com or call (312) 443-5100 if you have questions pertaining to whether you are up-to-date on your tax payments.
If a recent change of address is the cause for missed correspondence from the Treasurer's office, you can submit the  Name or Address Change Form, if a corrected address is found for a taxpayer.  This will ensure the Cook County Treasurer has your  up-to-date addresses for future mailings.  This form should be completed, notarized and emailed back to the Cook County Treasurer at the address given on the form.