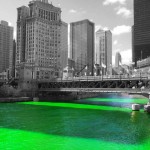 Festivities for the Downtown Chicago St. Patrick's Day Parade, scheduled for Saturday, March 14th, will kick off at 9:30 am when the Chicago River is transformed to a bright shade of Emerald Green. The dyeing ceremony takes place at the intersection of Columbus Drive and the Chicago River.  The best viewing locations this year are the Michigan Avenue Bridge, Columbus Drive Bridge, or Upper and Lower Wacker between Columbus and Lake Shore Drive.
The annual Downtown Chicago St. Patrick's Day Parade follows the river dyeing ceremony. One of the largest in the country, this year celebrates the 60th Anniversary of the parade's sponsorship by the Chicago Journeyman Plumbers Local Union 130 UA. The parade begins at noon and the route runs on Columbus Drive between Balbo Drive and Monroe Street.
2015 St. Patrick's Day Parade
Start Time: 12:00pm (noon) on Saturday, March 14th
Admission: FREE
More Information: Visit the Official Website
Parade Route: North on Columbus Drive between Balbo and Monroe
Boundaries of Parade: (including staging area)Columbus
from Roosevelt to Randolph
Congress from Michigan to Columbus
Jackson from Michigan Ave to Lake Shore Drive
Street Closure Times:    
Staging area – 8:00am
Eastbound Congress (from semi-circle to Columbus) – 8:00am
Balbo (from LSD to Michigan) – 8:00am
Columbus – full shutdown around 8:30am
*Streets will reopen after the parade has concluded, streets have been cleaned and public safety issues subside, approximately 3:00pm.
If you are planning to attend any St. Patrick's Day festivities, or will be traveling in the area during this time, please consider taking public transportation. Information is available on the CTA website.