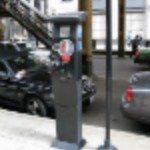 Just in from Alderman Brendan Reilly's office:
The City Council's Committee on Finance will hold the final public hearing on Monday, June 3rd at 9:15 am in City Council Chambers, 121 N. LaSalle, 2nd Floor. The City Council's Committee on Finance is expected to vote on the Proposed Settlement Agreement and Associated Amendment to the Chicago Metered Parking Concession Agreement.
Earlier this month, Alderman Reilly voiced his opinion on this controversial parking meter proposal, which was introduced at the May 8th City Council Meeting.  The Alderman urges 42nd Ward residents and businesses who will be impacted by the new proposal to attend the next Committee on Finance Public Hearing to provide their testimony on the Amended Parking Meter Agreement.
For more information about the previous hearings, please click on the following links to download the ordinance and meeting notices for 5/28/13 and 5/31/13.