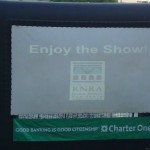 For the second year in a row, hundreds of our River North residents voted in our summer movie survey.  Shown in A. Montgomery Ward Park, movies will begin Tuesday June 17th at sundown. We are looking for volunteers to help us greet and hand out programs prior to the movies. Interested, please contact info@rnrachicago.org.
This year's movie line-up:
June 17th – As Good As it Gets
July 1

st

– Captain Phillips

August 12

th

– The Blind Side

August 26

th

– The Lego Movie
The six movies are sponsored by RNRA with the support of the Chicago Park District. The cost of each move is paid by RNRA along with support from local businesses who sponsor our program. The movies are selected from a catalog supplied by the Park District. All movies are rate PG-13 or lower.
Please remember Dogs are NOT allowed in A. Montgomery Ward Park at anytime. Alcohol is also prohibited.
See you in the park!