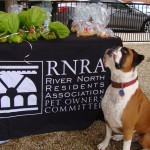 Members of the River North Residents Association Pet Committee will be cleaning up the Dog Friendly Area Park on Erie and Larrabee on Saturday, December 6th 10:30am – 12:30pm. We're looking for volunteers to assist us in our efforts.
Clean-up materials will be supplied but if you have any extra rakes or garbage bags that would be helpful.
Let's keep the park clean for our furry friends!