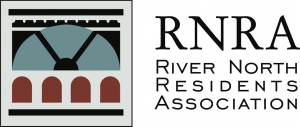 We are River North. We are dynamic, kind, committed, creative and welcoming. We are the nexus of premier residential life and shopping, revenue generating tourism and the most incredible restaurant and hospitality venues in the city. Unfortunately, many of our residents and businesses have been impacted economically, socially and psychologically by the unprecedented COVID-19 pandemic.
In the trying days ahead, we must be resilient and caring.  We must lift ourselves and others up as best we can. Follow all of the health and wellness advisories. Wash those hands meticulously and often, and get your rest. Take care of yourself, your family and those who are dear to you. Practice physical distancing, but reach out to your neighbors to make sure that they are OK.
We have been temporarily transfixed in River North. The energy and opportunities that we bring to the city may be diminished right now, but we will rebound.
Until the hospitality businesses that contribute to our delight and vibrancy can open and begin their recovery process, please consider supporting them and their team members with your take-out patronage.  Let's show them some hope of surviving the COVID challenge.
Above all else…keep all of the medical professionals, first responders and essential service providers who are on the front line to serve and protect us in your thoughts and prayers. They are heroes.
We are River North!  We will remain strong, vigilant and caring.
Mike Riordan
President, RNRA