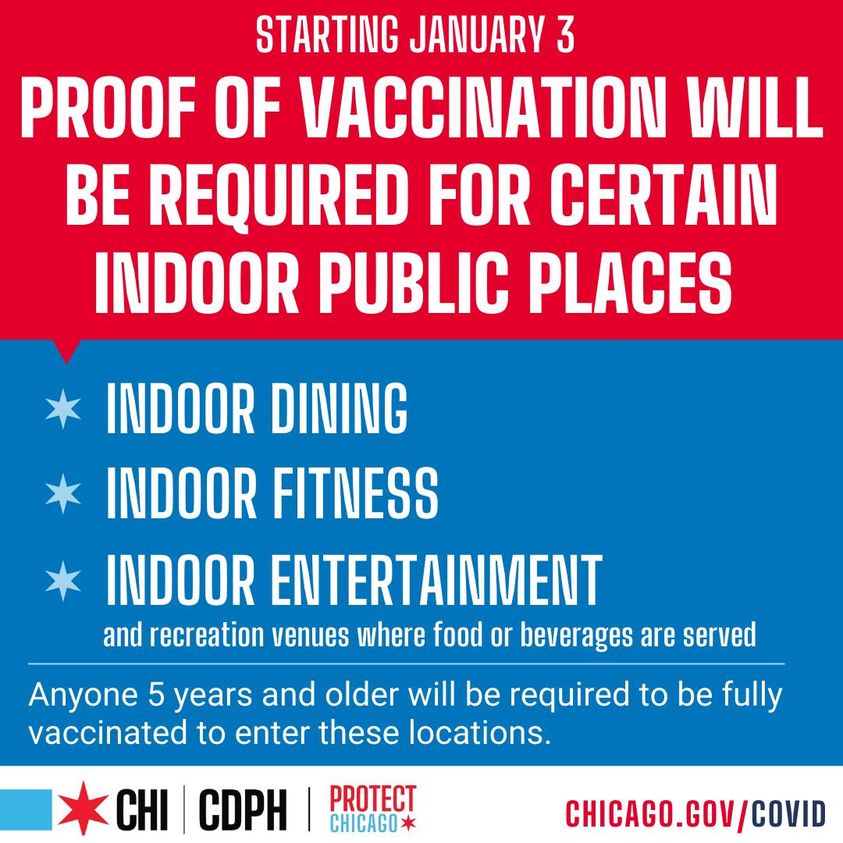 Mayor Lori Lightfoot and the Chicago Department of Public Health (CDPH) announced new vaccine requirements due to the rise of COVID-19 infections, which is driven by the new Omicron variant. Effective Monday, January 3, 2022 individuals 5 years of age or older are required to provide proof of vaccination against COVID-19 to dine indoors, visit gyms, or entertainment venues where food or drink are being served. Additionally, patrons age 16 and over will need to show a matching ID.
Proof of vaccination means a CDC COVID-19 Vaccination Record Card, an official immunization record from the jurisdiction where the vaccine was administered, or a digital/physical photo of the record. People are considered fully vaccinated two weeks after their second dose of the Pfizer or Moderna vaccine or two weeks after a single-dose of the Johnson & Johnson vaccine.
The vaccine requirement does not include houses of worship, grocery stores, schools/daycares, and locations in residential or office buildings that are restricted to resident or tenant use only. Additionally, it does not apply to individuals entering an establishment for less than 10 minutes to order and carry out food, deliver goods, or use the bathroom. Please CLICK HERE for more information regarding the new vaccine requirements.
It is more important than ever to get vaccinated and boosted and wear a mask while indoors. If you have not been vaccinated or received a booster dose, please CLICK HERE to find a vaccination site near you.