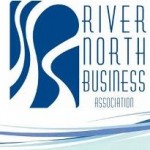 From the River North Business Association,
You may have noticed the special fencing erected on several streets in River North today and be wondering just what is happening!
President Barack Obama will be in River North this afternoon from about 3:30 PM until about 6:30 PM. Traffic in the area will be greatly impacted so plan accordingly. More details can be found by clicking this link to the Sun Times article.