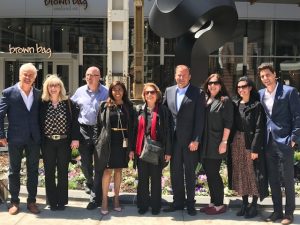 Earlier this week, Alderman Reilly joined representatives from Hubbard Street Group, Centrum Realty and Development, Rosenthal Fine Art, The Clement Meadmore Foundation, River North Residents Association and River North Business Association  for the formal unveiling of UPRIGHT (2002), a sculpture by the late Clement Meadmore that was recently installed in the public plaza at the corner of Hubbard and Wells in River North.
Meadmore was an Australian-American artist known for creating massive outdoor steel sculptures – many incorporating elements of minimalism and abstract expressionism. The 11-foot-tall sculpture "UPRIGHT" is a single, rectangular volume repeatedly twisting and turning upon itself before lunging into space, as in a mood of aspiration or exhilaration, or simply to release physical forces held in tension.
Sculpture:
Meadmore Upright, 2000
Garden Scale Sculpture, 4/4 (last multiple in an edition of 4).
Dimensions:  11 "5" x 3' 5" x 4' 5" (approx)
Material:  Aluminum plate (1/4" thick), painted black w/flat polyurethane.
Meadmore's works fuse the elements of Abstract Expressionism and Minimalism, including their formal clarity, their basis in geometry, their preference for smooth, uninflected surfaces, and, above all, in their penchant for single, unitary forms. His sculptures express ideas and feelings beyond the minimalist analytics of an idea developed in advance. Instead his compositions were arrived at intuitively.