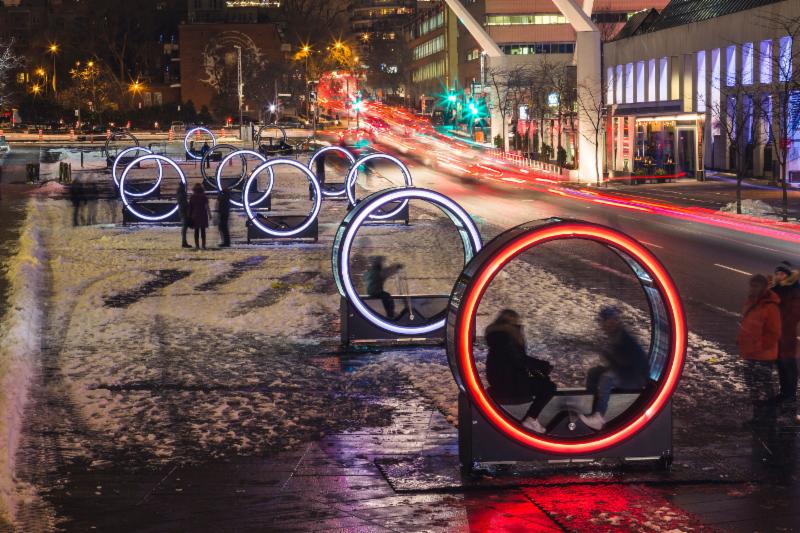 Navy Pier brings visual and interactive art full circle with its latest free public art installation, Loop. Inspired by the zoetrope – an optical device invented in the 19th century – this retro-futuristic machine creates playful animations with the simple pull of a lever, bringing to life 13 classic fairytales. The interactive and whimsical installation will remain on display from February 28 to May 12, 2019.
Loop, produced by Ekumen and Montreal-based Quartier des Spectacles Partnership, is a cross between a music box, a zoetrope and a railway handcar. Guests of all ages are welcome to sit inside of one of the 12 nine-foot cylinders and pull a lever to set in motion a flickering strobe effect of black and white images accompanied by sound – reminiscent of early films. Once activated, the cylinder becomes animated with light and sound, creating the illusion of motion in the drawings. The black and white images can be viewed from close up or far away. The speed at which the images fly by, the frequency at which the light flickers and the rhythm of the audio composition are all directly related to the pace set by the participants' effort at the pump-powered machine.
Loop is part of Navy Pier's ongoing commitment to offer guests free, one-of-a kind arts and cultural programming, designed to inspire, educate and connect communities. For more information, visit www.navypier.org.