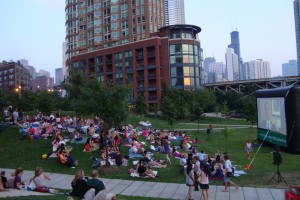 Once again, your RNRA with the Chicago Park District will be hosting six Movies in the Park this summer in A. Montgomery Ward Park. We are looking for some wonderful volunteers for our Park Advisory Council (PAC). If you have some time before and or after the movie, we sure could use your help. Before the movie, we need volunteers to hand out our programs and small bags for litter. After the movie, we need volunteers to do a little clean up to keep our park looking beautiful.
Our first movie is Tuesday, June 18th.
To volunteer, please email us at info@rnrachicago.org. Thank you! See you in the park!