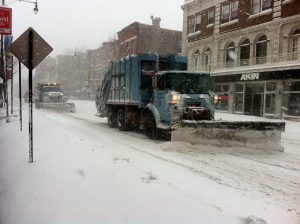 Dear Neighbor,
I spent my day coordinating with the Commissioner of the Department and Streets & Sanitation and the 2nd Ward Superintendent, making sure that we are ready for this weekend's winter storm.
A Winter Storm Warning is forecasted to begin 6:00 pm on Thursday, February 8, and is expected to last well into Friday night. Chicago could get up to 14" of snow over the duration of the storm, with an additional 1-3" of snow possible on Saturday and Sunday as well.
To ensure residents are prepared, here are some helpful tips:
• Once it is determined by Street Operations that the arterial streets are safe and clear, only then will plow trucks be deployed into residential streets.
• Try and keep your sidewalks clear during the storm as often as you can. Lend a hand to seniors in keeping their sidewalks clear as well.
• When shoveling your sidewalks or driveways, please DO NOT SHOVEL SNOW INTO THE STREET. Adding additional snow onto the street makes it more difficult to keep the street safe and clear.
Chicago Public Schools has announced all schools will be closed on Friday, February 9.
The 2nd Ward Service Office will be open on Friday, February 9 with regular hours, and will be closed on Monday, February 12 in observance of Lincoln's Birthday. Over the weekend, staff and I will be actively monitoring the storm. To report snow-related issues, please send an email to Ward02@cityofchicago.org, or send a tweet to @AldermanHopkins.
Stay Safe and Warm,
Alderman Brian Hopkins
2nd Ward