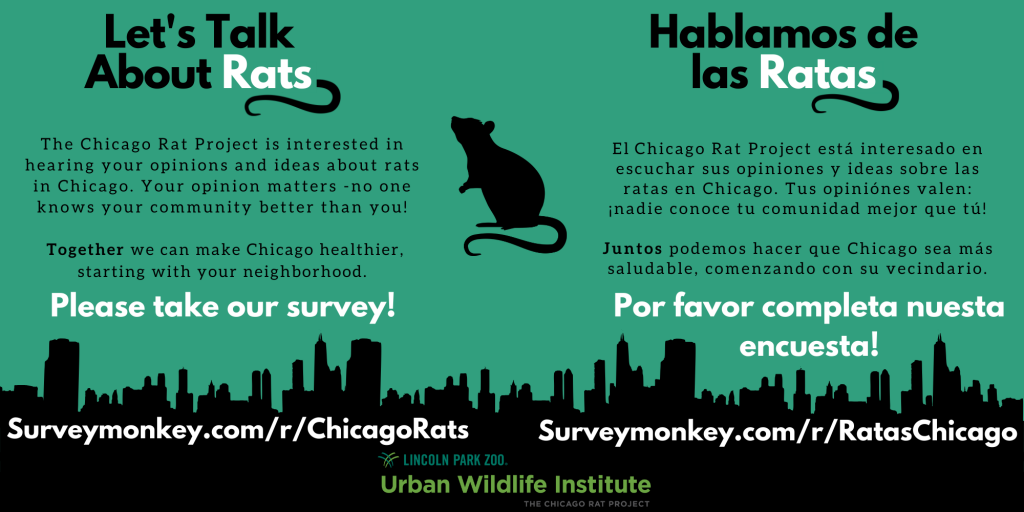 Is the "stay-at-home" order changing rat problems in Chicago?
Please take our survey!
You are invited to participate in a research study by taking a 15-minute anonymous survey about rats in your community. We are interested in hearing from everyone over the age of 18, even if you do not currently have rat problems.
The goal of this study is to determine if staying at home has changed rat problems in homes across Chicago and if this has changed public health risks from rats or attitudes about Chicago's wildlife.
Your responses will help us identify areas that may need support for rodent control, public health, and urban nature because no one knows your community better than you.
Please CLICK HERE to take our survey
or paste this link in your browser:
www.surveymonkey.com/r/ChicagoRats
This survey is part of the Chicago Rat Project, led by scientists at Lincoln Park Zoo, the Field Museum, the Center for Community Health Equity and Johns Hopkins University. The Urban Wildlife Institute at Lincoln Park Zoo is continuing to learn about Chicago's urban wildlife landscape as our communities navigate COVID-19 together. If you have time and are able, we would appreciate any insights you are able to provide via this survey. We understand if you aren't able to participate. Hopefully, we'll learn a little bit about our city and its non-human residents in this challenging environment.
We appreciate your help! If you have any questions, please contact the study lead Dr. Maureen Murray and project coordinator Jackie Buckley at ChicagoRatProject@gmail.com, and visit the Chicago Rat Project website: https://www.lpzoo.org/conservation-science/projects/chicago-rat-project.