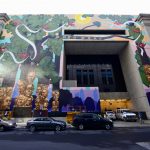 Earlier this week, internationally renowned artist and MacArthur Fellow Kerry James Marshall, unveiled his epic, large-scale mural on the Chicago Cultural Center (78 E. Washington St.).
The 132-foot by 100-foot mural is the largest artwork he has ever designed or created, and can be seen on the building's Garland Court façade, between Washington and Randolph Streets.
The mural honors 20 women who have shaped the city's vibrant arts and culture landscape:
Susanne Ghez, Director and Chief Curator for nearly 40 years, The Renaissance Society
Barbara Gaines, Founder and Artistic Director, Chicago Shakespeare Theater
Jacqueline Russell, Founder and Artistic Director, Chicago Children's Theatre
Ruth Page, Dancer, Choreographer and Founder, Ruth Page Center for the Arts
Lois Weisberg, Longest-serving Commissioner of the Chicago Department of Cultural Affairs
Maggie C. Daley, Longest-serving First Lady of the City of Chicago
Jackie Taylor, Founder and CEO, Black Ensemble Theater
Monica Haslip, Founder and Executive Director, Little Black Pearl
Abena Joan Brown, Founder, eta Creative Arts Foundation
Margaret Burroughs, Founder, DuSable Museum of African American History
Harriet Monroe, Founder, Poetry Magazine
Cheryl Lynn Bruce, Co-founder, Goodman Theatre / Dearborn Homes Youth Drama Workshop
Sandra Delgado, Founding Ensemble Member, Collaboraction
Jane M. Saks, President and Artistic Director, Project& and Founding Executive Director, Ellen Stone Belic Institute for the Study of Women and Gender in the Arts and Media
Barbara Jones-Hogu, Founding Member, AfriCobra
Gwendolyn Brooks, Literary Icon
Sandra Cisneros, Literary Icon
Achy Obejas, Award-winning writer
Oprah Winfrey, Cultural Icon
Joan Gray, Dancer and Longtime President of Muntu Dance Theatre of Chicago
The Kerry James Marshall's mural at the Chicago Cultural Center is part of the Chicago's Year of Public Art. Throughout 2017, the City of Chicago has unveiled the city's first Public Art Plan, presented exhibitions and series of neighborhood events highlighting the city's public art collection located throughout the city.
As the year comes to a close, the city is also celebrating the completion of several new artworks as part of the 50×50 Neighborhood Arts Project, a citywide initiative that commissioned dozens of local artists to create new sculptures, murals and other public artworks in Chicago's 50 wards, representing a $1.5 million investment in artist-led community projects. Many of these works, including the sculpture to be erected in the 42nd Ward, are in the final stages of production or have been completed.
The mural is funded by Murals of Acceptance, whose goal is to bring art to all people in a free public setting. Murals of Acceptance was founded by Chicago native, Kevin McCarthy and is supported by Marc and Lynne Benioff and by Patricia Arquette and David Arquette.
The Chicago Cultural Center is the first and most comprehensive free large-municipal cultural venue in the country. Every year, the Chicago Cultural Center, presents hundreds of free international, national, regional and local artists, musicians and performers, providing a showcase where the public can enjoy and learn about the arts. It is currently home to the Chicago Architecture Biennial, which will run through January 7, 2018.
Source: Alderman Reilly Reports 12/8/17