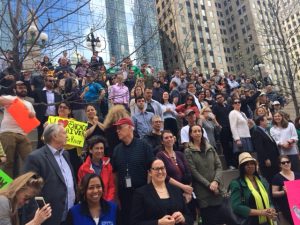 Friday, Apr 27, 2018 11:00am – 1:00pm
Tags: River Education
In celebration of our beloved Chicago River, Friends of the Chicago River wants you to join members and friends for the largest Chicago Riverwalk group photo ever and take #OverflowAction with us! Last year close to 200 people came out!
Meet Friends of the Chicago River at The River Theater between Clark and LaSalle to see if we can break a world record for people standing together on these stairs to represent the thousands who care about the Chicago River.
More details to come. Email Joanne So Young Dill  –  jdill@chicagoriver.org for further inquiries.