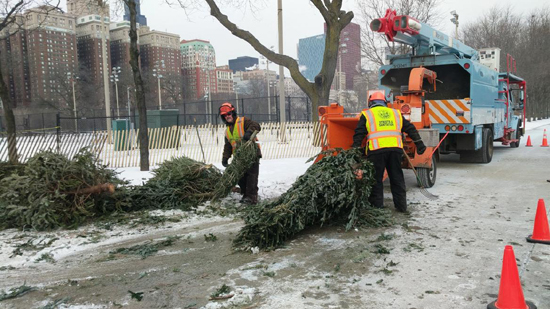 The Chicago Department of Streets and Sanitation and the Chicago Park District announced that the City's 30th annual holiday tree recycling program will run from Saturday, January 5th, through Saturday, January 19th, at 25 locations citywide.
Live holiday trees can be dropped off inside tree corrals set up at any one of the 25 designated Chicago Park District locations. The holiday tree recycling program is not able to accept wreaths or garlands. Ornaments, lights and tinsels must be removed before the tree is dropped off and trees should be removed from any bags when placed in the tree recycling corrals.
Trees recycled through the program are turned into mulch, wood chips for use at Chicago Park Districts and materials for use by the Metropolitan Water Reclamation District.
Here are some nearby locations:
• Garfield Park, 100 N. Central Park Ave.
• Grant Park, 900 S. Columbus Dr.
• Humboldt Park Boathouse, 1369 N. Sacramento Ave.
• Lincoln Park*, Cannon Dr. at Fullerton Ave. (Parking lot east of Cannon Dr.)
• Walsh Park, 1722 N. Ashland
For more information, please visit www.recyclebycity.com/chicago/brief.
Source:  Brian Hopkins, 2nd Ward Alderman 1/2/19 Newsletter