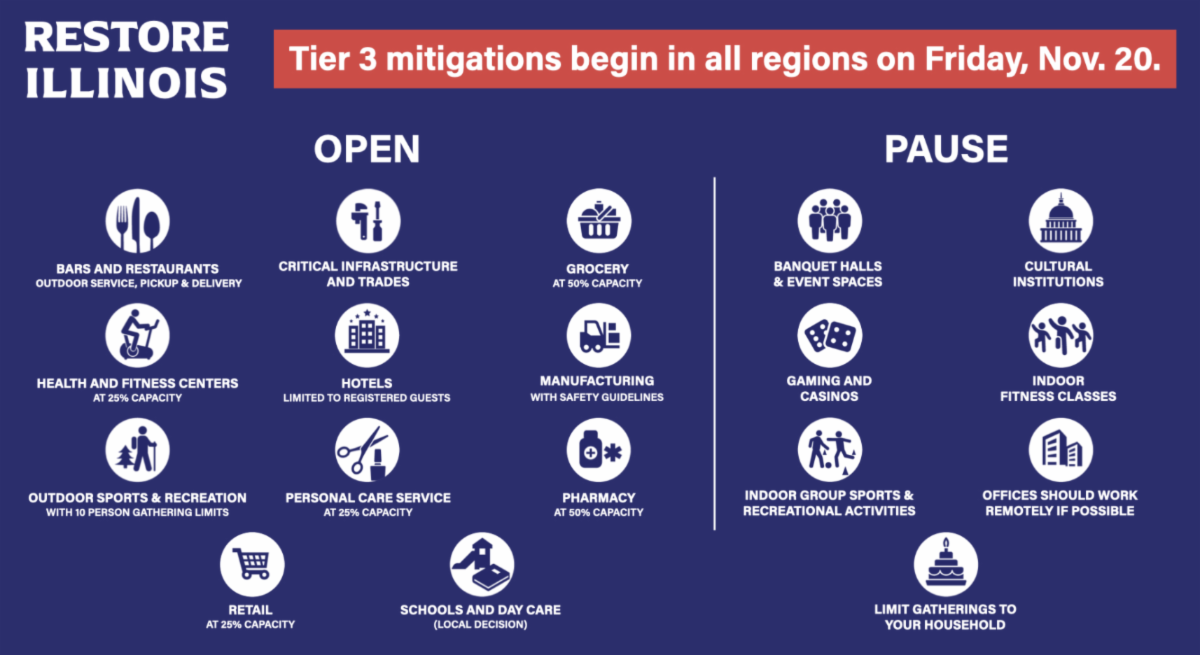 Source:  Alderman Reilly Reports 11/17/2020
Earlier today, Governor JB Pritzker and the Illinois Department of Public Health (IDPH) announced additional COVID-19 resurgence mitigations that will take effect in every region across the state in an attempt to slow the spread of the virus. Tier 3 mitigations build on the Resurgence Mitigation Plan released in July to suppress the spread of the virus and prevent hospitals from becoming overrun. These mitigations aim to limit gatherings and encourages residents to stay home as much as possible and follow proper safety measures when out in public.
As a reminder to residents, Chicago is under a Stay-at-Home Advisory to combat the alarming rise in COVID-19 cases and hospitalizations. Please note, this advisory is recommended guidance from the City of Chicago and not an enforceable order.
While this latest round of mitigations does not include a stay at home order, if the mitigations are not adhered to and cases continue to rise in the weeks ahead, another order may be required. For all regions, additional mitigation measures take effect Friday, November 20, 2020 at 12:01am. The new mitigation requirements to combat the surge of COVID-19 across Illinois are as follows.
For more information:  CLICK HERE
To see latest City of Chicago COVID Dashboard, CLICK HERE