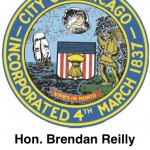 Grassroots Effort Defeated Costly Sprinkler Mandate; Benchmarking Ordinance Latest Threat
At the July 24, 2013 City Council meeting, Alderman Reilly and 11 of his colleagues delayed the vote on the Emanuel Administration's "Building Energy Use Benchmarking" ordinance that would require all commercial and residential buildings over 50,000 square feet to provide energy consumption data to the City of Chicago on an annual basis. The proposal requires each building's data to be posted on a public website; and each building's energy consumption would be rated and assigned a performance score.
Alderman Reilly does not support the proposed ordinance in its current form, as it could impose a costly mandate on condominium owners in the 42nd Ward and across the City of Chicago. A champion of several innovative energy efficiency and demand management programs already underway in downtown Chicago's 42nd Ward, Alderman Reilly supports the concept of "energy benchmarking." Benchmarking can be a powerful tool to help accelerate the market for energy efficiency, when scaled and implemented properly.
However, Alderman Reilly will continue to oppose the "Building Energy Use Benchmarking" ordinance until it is amended to:
(1) prevent the further marginalization of older buildings in the local real estate market; and (2) better shield condominium and co-op owners from the financial burden of costly mandates associated with the ordinance.
This ordinance will be voted on at the next City Council Meeting on Wednesday, September 11, 2013. Because the ordinance was deferred at the last City Council meeting it cannot be deferred again and there will be no debate allowed on this proposal – only a simple roll call vote of aldermen.
Alderman Reilly hopes that, with your help, we can work collaboratively with Mayor Emanuel to craft a more responsible and reasonable Energy Use Benchmarking ordinance that provides property owners with the valuable data they need to improve the energy efficiency of their buildings without burdening them with additional costly government mandates and exorbitant building retro-fit costs.
WHAT YOU CAN DO TO HELP?
Respectfully share your concerns with the Emanuel Administration and request an opportunity to make minor, reasonable changes to the proposal that would protect condominium and co-op owners from additional costly mandates.To contact the Mayor, e-mail:
letterforthemayor@cityofchicago.org and cc: mayor.emanuel@cityofchicago.org
You can also send letters to: Mayor Rahm Emanuel, Mayor's Office – City Hall, Room 500, 121 North LaSalle Street, Chicago, IL 60602. If you wish to use social media to register your objections, you can post them via Twitter: @chicagosmayor or on Facebook at: https://www.facebook.com/ChicagoMayorsOffice.
For information about the next City Council Meeting on September 11, 2013 click here.