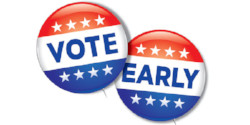 The February 26th municipal election is just around the corner. Now is the time to make sure you are registered to vote, and/or that your voter registration is up to date. In Illinois, you can register to vote anytime, up to and including Election Day. Below is a quick guide on where and how to register to vote, as well as important deadlines for voter registration.
CLICK HERE to check the status of your registration online.
WHAT YOU NEED IN ORDER TO REGISTER
To register or update your registration, you will need TWO forms of identification, ONE of which lists your current address. You may use an IL state ID and/or IL driver's license to register at your new address – even if the ID lists your old address – as long as you have 1 other form of ID with your new address. CLICK HERE for a complete list of accepted IDs.
WHERE AND HOW TO REGISTER
ONLINE: CLICK HERE to use your IL driver's license or state ID card to register to vote or update your registration online.
Deadline: Sunday, February 10, 11:59 PM
BY MAIL: CLICK HERE to download the form. Fill in the blanks, print it, sign it, fold and stamp it, and mail it to the Board of Election Commissioners. You may also deliver it in-person.
Deadline: Tuesday, January 29, 11:59 PM 
WITH A DEPUTY REGISTRAR: Register with any active deputy registrar who is affiliated with a local organization, such as a political party, ward organization or another state-certified body.
Deadline: Tuesday, January 29
IN PERSON AT AN EARLY VOTING SITE: Bring 2 forms of ID to ANY early voting site in Chicago from February 11 through February 25 to register and vote same-day. You may register and vote at the Loop SuperSite as early as Thursday, January 17.
CLICK HERE for a list of all early voting sites and hours.
Registration Deadline: Monday, February 25