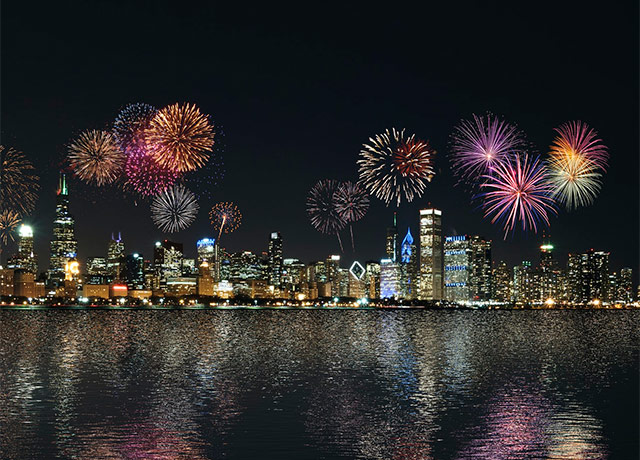 The City announced plans to welcome in the New Year with a 1.5-mile-long midnight fireworks display along the lakefront and Chicago River.
These will be the largest fireworks display the City's ever had and will be accompanied by a live simulcast from WGN. This year, with the COVID-19 pandemic still threatening the health and safety of Chicago residents, the City has introduced health guidelines that will encourage visitors and residents alike to celebrate safely.
Promptly at midnight, a fireworks display choreographed to a special music soundtrack will light up the sky synchronized across eight separate launch sites along the Chicago River and in Lake Michigan near Navy Pier. The display will be free to view, courtesy of the City, Choose Chicago, and participating partners from across the hospitality community. A website has been created to provide details about the event including locations where people can view the fireworks. WGN-TV will be broadcasting live starting at 11:00 pm and showcase the Midnight Fireworks and accompanying music soundtrack. Viewers are encouraged to watch the show from the safety of their homes.
The Chicago Department of Public Health encourages everyone who is eligible to get vaccinated. The COVID-19 vaccines are by far the best way to protect yourself and your loved ones from the virus. Even if you are vaccinated, consider a COVID-19 test (either through a healthcare provider or at home) before gathering, and encourage guests to do the same before indoor holiday gatherings. Tests can help protect unvaccinated children, older individuals, those who are immunocompromised, or individuals at risk of severe disease. As a reminder, the mask mandate for Chicago and Illinois remains in effect and a mask is required at all public indoor settings across the city. Many venues will also require proof of vaccinations or a negative COVID-19 test for entry. Effective Monday, January 3, 2022, any individual 5 years of age or older will be required to show proof that they are fully vaccinated against COVID-19 to dine indoors, visit gyms, or enjoy entertainment venues where food or drink are being served. If you have been exposed to COVID-19, are sick, or experiencing any COVID- or flu-like symptoms; you should not attend any gatherings for New Year's Eve, even if you are vaccinated. For more information on how to stay safe and reduce the spread of COVID-19, visit chicago.gov/covid.
Event partners are located in close proximity to the display launch points, offering guests beautiful views and plenty of entertainment options. Visitors and locals alike are encouraged to eat, drink and be merry at a variety of partner venues and events. The fireworks will also be broadcast live on WGN-TV.
The event is made possible by support from the City of Chicago and partners from the hospitality industry, which employs more than 90,000 workers.
To learn more about the Chicago New Year's Eve River Fireworks Celebration and view a full list of all official partners and event options, please visit www.NYEBlast.com.
Street closure and traffic impacts can be reviewed here.