Map Unavailable
Date/Time
Date(s) - 01/26/2018 - 02/08/2018
All Day
Category(ies)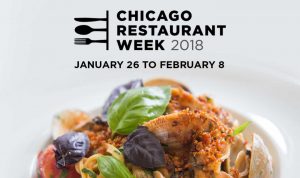 Chicago Restaurant Week, produced by Choose Chicago, returns for it's 11th year!  Support your River North restaurants and our RNRA Sponsors!
The following restaurants are  featured on RNRA's mobile app "My River North" and are participating in Restaurant Week.  We hope that you will visit these establishments that help to support our community! If you are an RNRA member don't forget to use your mobile app "My River North" to check out every day deals from these restaurants too.
Choose Chicago:  Get ready for 14 belt-busting days! Chicago Restaurant Week 2018 returns on January 26 and continues through February 8 with two weeks of dining deals.
The 11th annual culinary celebration features special prix fixe menus starting at $22 for brunch or lunch, and $33 and/or $44 for dinner (excluding beverages, tax and gratuity).
Wondering how to get in on all the fun? It's easy:
• Browse the list of Chicago Restaurant Week participants – click
here.
• Check out their special brunch/lunch/dinner menu offerings
• Make your reservations early to ensure you have a seat at the table by clicking on the restaurant name
Over 370 restaurants take part (including 115 new participants for 2018!), so get a taste of Chicago's restaurant scene: Italian, French, Spanish, Chinese and more! Between the neighborhood favorites and downtown hotspots, you can feast on delicious multi-course menus all across the city and suburbs.
---
RNRA Members can also find offers available every day from these restaurants/venues on your "My River North" mobile app!