Date/Time
Date(s) - 01/21/2018
3:00 pm - 7:00 pm
Location
South Shore Cultural Center
Category(ies)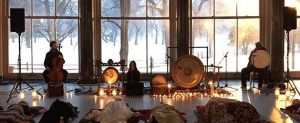 3:00 p.m. to 7:00 p.m.
Activate your dreams for the coming year with a guided meditation of elemental renewal, set to the powerfully resonating sounds of gongs, otherworldly vocals and orchestral instruments. Join us at the beautiful South Shore Cultural Center and set your intention for the New Year during a 90 minute guided sound journey, followed by light bites, aromatic teas, and conversation. Before the meditation, explore the world of wellness at our opening reception featuring mindful local partners and unique sensory experiences.
Proceeds from this fundraising event benefit the Chicago Parks Foundation's work to spread positive, productive energy throughout all of our parks! $45 includes guided sound meditation, light bites and teas, and a mindful gift.
EVENING'S SCHEDULE
3PM – 4:30PM
Opening reception of wellbeing partners
Set up of personal spaces
4:30PM – 6PM
Sound Meditation (feat. GongLab & Special Guests)
6PM – 7PM
Light bites, teas & conversation
Free parking available. This event is suggested for guests age 16 and older. Guests are requested to dress comfortably and bring blankets, pillows, mats or other items to create a cozy personal space. Volunteers will be on hand to assist as needed.
For more information and tickets, click here.