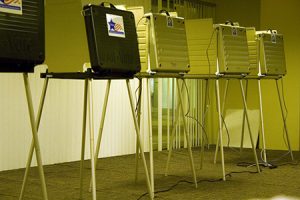 Early Voting for the upcoming Primary Election is now offered at the Loop Super Site located at 16 W. Adams Street, Monday through Saturday, 9:00am – 5:00pm, and Sundays, 10:00am – 4:00pm, through March 4.
From March 5 to March 19, Early Voting will be available at 51 sites throughout Chicago.  University Early Voting will also be offered at Chicago State, UIC, and Northeastern on select dates.
Early Voting allows registered voters to cast their ballot in advance of the Tuesday, March 20 Primary Election.  Registration services are also available at Early Voting sites.
During Early Voting:
• Any Chicago voter may use any Early Voting site in the city, regardless of where the voter lives.
• Ballots cast in Early Voting are final. After casting ballots in Early Voting, voters may not return to amend, change or undo a ballot for any reason. It is a felony to vote more than once — or to attempt to vote more than once — in the same election.
• Government-issued photo ID is not required but is helpful if there is a question about the voter's registration, address or signature.
• Registration services also are available at all Early Voting sites. NOTE: Any voter who needs to register for the first time or file an address change or name change must present
 two forms of ID
, one of which shows the voter's current address.
42nd Ward Early Voting Locations:
Museum of Broadcast Communications
360 N. State Street
Loop Super Site / Election Board Annex
16 W. Adams Street
To view a list of early voting hours and locations, click here.
Complete information for voters is available on the Chicago Board of Election Commissioners website, www.chicagoelections.com.
Source:  Alderman Reilly Reports 2/23/18