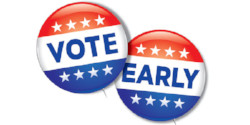 Starting Wednesday, February 19, in-person Early Voting and registration for the March 17, 2020 Primary Election will be offered at the Loop Super Site, 191 North Clark Street.
The Loop Super Site will be open 9:00am – 5:00pm Monday through Saturday and 10:00am – 4:00pm Sundays from February 19 until March 1.
Citywide Early Voting, available at 50 Ward Sites and the Loop Super Site, will be offered March 2 through March 16. To view a list of all early voting locations and hours for all sites, CLICK HERE.
During Early Voting
• Chicago voters will be able to use any Early Voting and registration location in the city from March 2 – March 16. Before March 2, only the Loop Super Site will have Early Voting.
• Ballots cast in Early Voting are final. After casting ballots in Early Voting, voters may not return to amend, change, or undo a ballot for any reason. It is a felony to vote more than once — or to attempt to vote more than once — in the same election.
• Government-issued photo ID is not required but is helpful if there is a question about the registration, address, signature or if there are two voters with the same or similar names at the same address.
• Registration services are available at every Early Voting site. However, any voter who needs to register for the first time or file an address update or a name change must show two forms of ID, one of which shows the voter's current address.
Vote by Mail
Registered voters may also choose to Vote by Mail. Voters do not need a reason or excuse to use Vote by Mail. In order to apply, submit your application online or a downloadable mail-in application  can be submitted to the Board of Elections.
The deadline to submit your Vote by Mail application is 5:00pm on Thursday, March 12, 2020.
For more information, voters can visit the Chicago Board of Election Commissioners website, linked here.