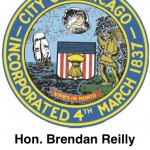 Don't Forget to Vote Early in the City Election!
Avoid Long Lines and Cold Weather on Tuesday!
Alderman Reilly strongly encourages you to "Vote Early" before this Saturday, to avoid long lines and cold temperatures on Election Day next Tuesday!
 Early Voting locations are open daily from 9:00am – 5:00pm through Saturday, February 21, 2015.  Any registered Chicago voter may vote at any Early Voting site in Chicago, regardless of where they live. You don't need a reason to vote early, you only need a government-issued photo ID.
Downtown Early Voting Sites:
Chicago Board of Elections
69 W. Washington Street, Lower Level Conference Room
Museum of Broadcast Communications
360 N. State Street
Access Living 
115 W. Chicago Avenue
Click here to view a list of all Early Voting locations in Chicago.