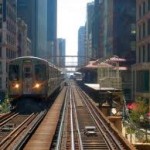 In an effort to upgrade power and electrical service on the Brown and Purple lines, work will be performed that may affect your neighborhood. While progress sometimes comes with inconveniences, the CTA will do their best to keep them to a minimum.
Dates: Monday, October 7, 2013 to Friday, November 15, 2013
Location: Illinois Street between Franklin and LaSalle streets
Work Activity: Power and Electrical Service Upgrades
Work Hours: Work hours may vary within the period of 8am to 8pm, each weekday. Weekend work may occur.
Impact to Residents:
Some "No Parking" restrictions and full bike lane closures will be in effect on Illinois between Franklin and LaSalle.
Bi-directional traffic between Franklin and Wells, and one-way traffic between Wells and LaSalle will be maintained.
Southbound traffic will be affected by full lane closures on Illinois at Wells.
"No Parking" restrictions will be in effect eastbound and westbound on Illinois between Franklin and the alley just east of Wells.
A scaffold will be erected over the south sidewalk on Illinois between Franklin and the alley east of Wells. The south sidewalk will remain open.
There will be some noise while work is being performed.
If you have any questions or concerns about work activity, please contact Jeff Wilson, CTA Government and Community Relations Officer at 312-217-0346 or jwilson@transitchicago.com.