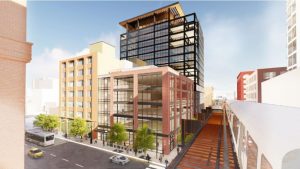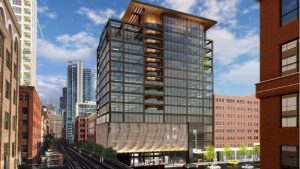 On 4/15/19 Alderman Reilly and the River North Residents Association (RNRA) co-hosted an informational presentation regarding a development proposal that includes one existing building (308 West Erie), and two parking lots (301 West Huron). Thank you to all who were able to attend.
The Applicant has proposed a Business Planned Development to include one existing building (308 West Erie) and two surface parking lots. The proposed development is planned in two sub-areas / phases:
An addition to the existing building (308 West Erie) that will create a new 6-story building.
An existing 15,100 SF landsite, with a proposed 15-story / 186′ tall building (301 West Huron) that will consist of approximately 153,000 SF of new office space, and contain 137 replacement parking spaces. The first floor will be a combination of retail and the building lobby.
Additionally, the new building at 301 West Huron may feature a kinetic facade, pictured above, which will both shield the parking structure and act as a reactive art installation that moves with the wind.
Please click on the following links to download the slideshow presentation and traffic study.
As you know, Alderman Reilly works hard to provide an open and transparent community review of all local development proposals. This project has not received Alderman Reilly's support, and this informational meeting was only the beginning of his rigorous, transparent community process. Alderman Reilly looks forward to hearing any concerns and comments you may have about this proposal. Please send feedback to development@ward42chicago.com.
Alderman Reilly Reports 4/19/19